Elizabeth Gallagher Winter's 80th Birthday Celebration

by Debra Stefan

Grand Canyon, January 26, 1999
Saturday we celebrated the 80th birthday with the restaurant full to capacity of just our guests. After the out-of-town relations departed on Sunday, we flew out of the Boulder City airport with our private plane and pilot on our adventure. Sunday night we stayed in Williams, and on Monday morning rode an historic train from Williams, AZ to the Grand Canyon. Monday night we stayed in the oldest historic hotel, the El Tovar, overlooking the south rim of the canyon. Tuesday morning we woke up to a very white Grand Canyon. Riding the train back to Williams later that day, we saw a herd of elk in the snow. Banjo players led us in old-time singalongs and the sheriff chased outlaws through the cars while we cheered on. Incredibly scenic countryside and quaint train ride was a timeless experience. After staying at the Fray Marcos hotel in Williams Tuesday night, we flew into Sedona which was a colorful sight of red and pink hues against the high desert terrain. Today, Friday, we visited the Bellagio Hotel to view the famous art exhibit. Well worth the trip!
Check out the snow at the Grand Canyon!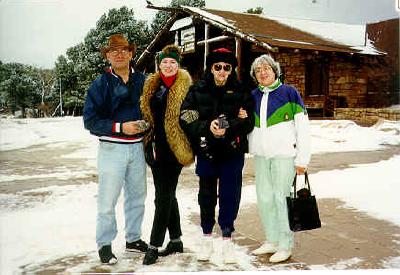 Lee Fabrizio, Debra Stefan, Beth Winter, Alberta Rooney