In 1996 John Winter, on his death bed, told his wife Elizabeth that his real name was Zemiatis and he shared other memories. She wrote letters to every Zemiatis family address in Mount Holly, NJ, and surroundings, hoping to locate news of his family. Following is her letter: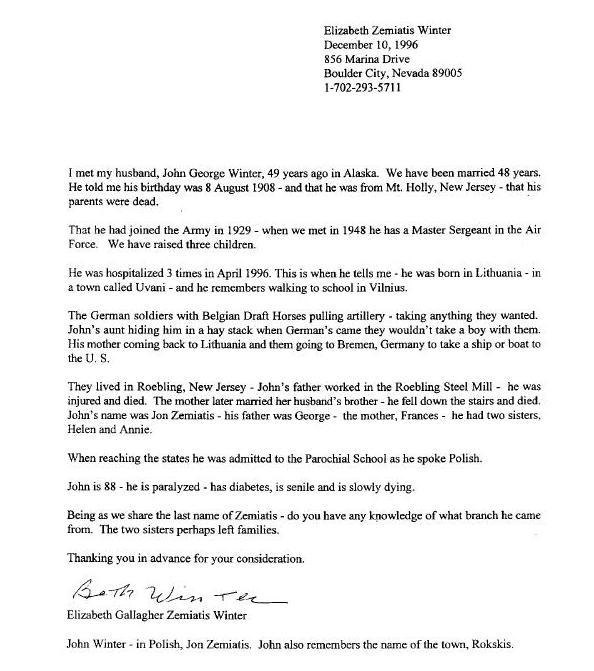 For months she heard nothing. But one of her letters had been delivered to Anna Zemiatis in Philadelphia, who was spending time in a vacation home and didn't see the letter until months later. When she did, she phoned Elizabeth and several phone conversations followed. Eventually, Elizabeth and her two daughters visited Anna and exchanged memories and photographs.
Following is a letter from Anna to Elizabeth:
Dear Elizabeth-

I'm sorry I did not write sooner. No excuses but laziness on my part and I've been on vacation in the Cattskills Mountains in New York State on a Dude Ranch. It was exhausting for someone my age. Never again.

I am sending you John't passport when he came to America; also my mother's application, etc. to bring him to America.

My mother & father came to Burlington New Jersey in 1914. My mother was 24 yrs old -- my father was 34 yrs old. My mother was 23 when she had John. My father 33 yrs old. He was 10 yrs older than my mother.

My father left Lithuania and came to Burlington, NJ and worked in Roebling Steel Mill for a few years, then when he saved $3,000 -- he went back to Lithuania and married my mother. With the money he had he bought his parents farm & homestead and planned to live there and to raise a family. But his mother was so angry that my mother was now the mistress of the house that she made life so miserable that my mother could not stand it and she made my father come back to Burlington. She left John with her mother because he was a baby and she did not think he could survive a one month trip on a ship. Also she was pregnant with Helen and nearly died coming here. She said she was sick every day and did not eat for the whole month on board.

They settled in Burlington & she had Helen. 2rs later I was born and while pregnant with Frances -- my father had his accident. He was a brakeman on a train & while trying to brake the train -- he slipped and his foot was cut off at the ankle.

He was in St. Francis Hospital in Trenton -- year 1918 -- gangrene set in and then on the operating table when they were amputating his leg above the knee, he died. My mother always said they gave him too much ether. Now my mother was a widow at 29 -- Helen was 4 -- I was 2 -- she was pregnant 5 mos with Frances, and my brother John 5 yrs was in Lithuania.

Then she married my father's youngest brother John and had my half brother Stanley. They were only married 7 yrs and he died in 1929 when the banks in Boy Lingtou closed. He went with all the townspeople to see if the banks were closed and came home. He was so upset that he lost every dime he had that he went to the bathroom and at the top of the landing he fell & had a concussion & hemorhage of the brain and died in the hospital that night. So again, my mother was a widow with 5 children.

In 1927 - she knew she had to go & bring John from Lithuania because he would be commissioned to join the army and serve 6 yrs. That's when she took Helen -- she was 13 -- with her and John was 14 -- she brought him home. He went to our Catholic Polish school to learn English, then she sent him to a trade school in Trenton, NJ.

We had a variety store -- candy, cigarettes, soda, ice cream. My mother also had a couple of boarders that rented a room. We had a 3 story house with 6 bedrooms. My mother caught John smoking and had an argument with him. He left the next morning and never came back for about one year. Said he had joined the army -- lied about his age, had no parents -- changed his name to Winter. Our name Americanized means Winter.

My mother took Helen to Lithuania because she was 13 yrs old and would remember more about the trip and our relatives there. I have a lot of them there. I went there in 1976 and stayed 5 days. There were under Russia (Iron curtain) and we could not visit any part of the country but Vilnius. My relatives had to come to the hotel and luckily I had 3 families that lived there and worked there so I visited them in their apartments.

The next letter I will send some pictures and try to explain them.

Excuse the writing. My fingers and hands are so arthritic and I had carpal tunnel syndrome operation done on both hands this year. The left one is still numb.

Hope you are all well. Tell John I'm praying for him and think of you all.

Write and tell me of your life and your family.

Love & Prayers

Anne Cieslak
3315 Almond St.
Phila. Pa. 19134
phone 215-426-6524

John is not 89 yrs old -- he's 84 yrs
John is 84 yrs old
Helen 83
Anne 81
Frances 79
Stanley 72

Our name was spelled Zemaitis
Elizabeth's feeling upon learning all this, was "you can see why John never bonded with his family".