In Memory of Brenna McDonnell
In September, 1998 eighteen year old Brenna McDonnell was tragically killed when the car she was driving was hit by another at an intersection. It was in a heavy fog and visibility was poor. Brenna was on her way to school, with her Senior pictures on the back seat, already signed for friends.
Her father's cousins (children of John P. Gerrity) arranged to have a memorial tree planted in a park in Adare, Ireland in Brenna's memory. Adare is a quaint Irish town, where the family has spent considerable time and has bonded with the town and its people. The name Adare in Irish is Ath Dara, meaning "ford of the oak". Appropriately, they chose a Pyramid Oak, which grows about 15 to 20 feet wide and 40 to 45 feet tall.
Friends and family who visit Ireland might want to plan a stop in the village park to spend a moment in memory of Brenna.
In Patrick's words, "It is a beautiful memorial, which I wish never needed to exist."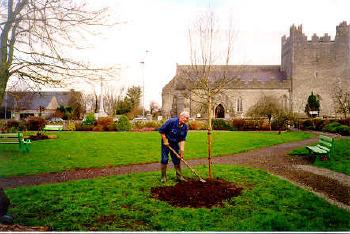 Donal Ryan, foreman of the Horticultural Division, planting the tree. That's Trinity Church in the background, where Patrick Gerrity lit a candle in 1991 for his late brother-in-law Jimmy Gleason, when he was suffering with cancer.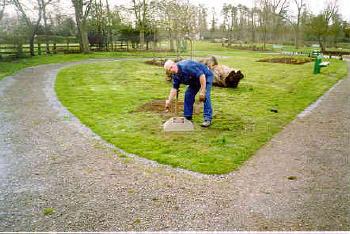 Donal Ryan setting the plaque.