February - March, Utah
MY WEEK ALONE
While Charlie went to his Planetary Conference in Houston, I went alone to our condo in Park City.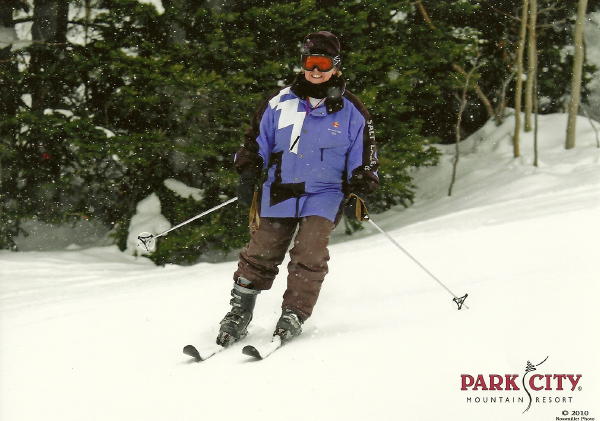 Claim Jumper trail on a slow day with no one there, so the camera man snapped anyone who wandered by. He caught me, and I like it. See the smile on my face. Relaxed, thoroughly enjoying the day. Click on photo to enlarge.
MY ADVENTURE:
I saw a moonlight snowshoe tour advertised and called to ask if an old lady with bad knees could join. Sure they said. If it's too much you can just turn back. For $8 and they supplied the equipment, what a bargain!

There was no instruction on how to fasten the snow shoes. The very pleasant gal just came by and did it for me. 52 people had signed up on this one hour tour that started at 7:00 PM (before the full moon was up).

After we went a ways I decided it was not a good idea, so I told the folk behind me I was going back and turned around. I was not aware of anyone acting as sweep.

It was dark. I saw a light on a building and thought that was where we had started from so headed for it. You can guess the rest.

One snow shoe came off. I lost it and continued with my left foot sinking to the knee with every step. When I physically couldn't continue, I realized I could roll (like a kid having fun) and so made it to the fence which I now saw was lined with wire. Somehow I put one foot on a rung and rolled myself over and made it to the front door of a nearby building. Of course this wasn't the building we had started from. There was a nice woman however, who took the remaining snow shoe off my foot and walked me back to our starting point.

It was now 10:00 PM and the place was locked. They didn't even know they had lost someone!

All's well that ends well. I was not hurt, and frankly I am quite proud of my stamina.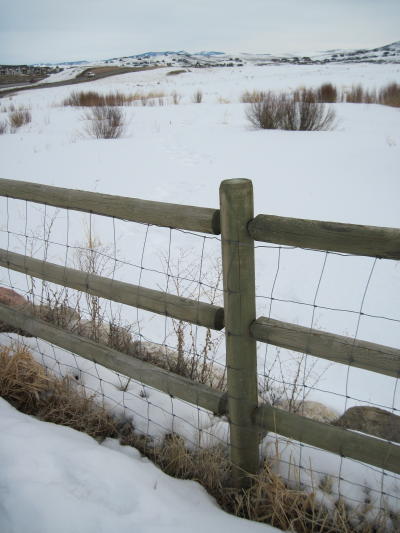 The fence I climbed. Click on photo (taken next day) to enlarge it and see my roll indentations in the snow
An Ice Castle built in Midway by Brent Christiansen
DJ and friends visited (also me, later) and walked through it, but the Kleboskys came too late.
It had melted to the point where people were no longer allowed to walk through it.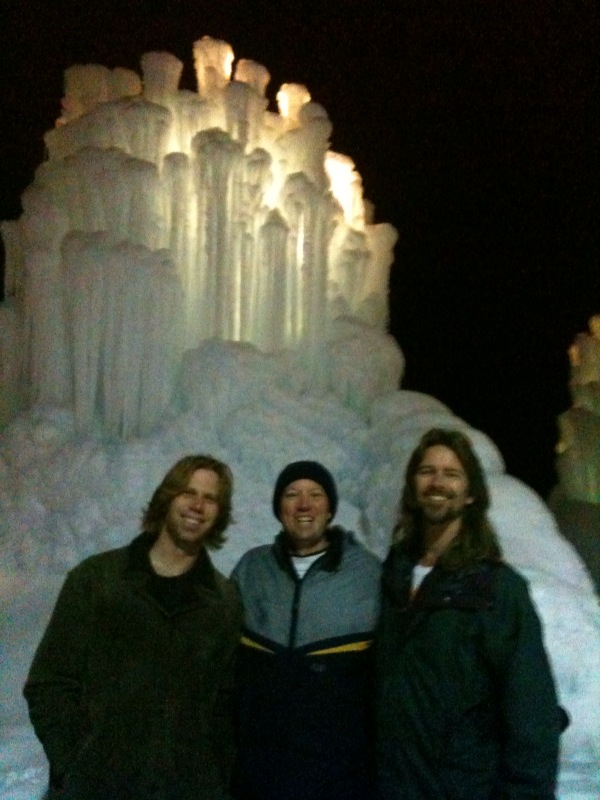 Chris, Mikey and DJ on Presidents' Weekend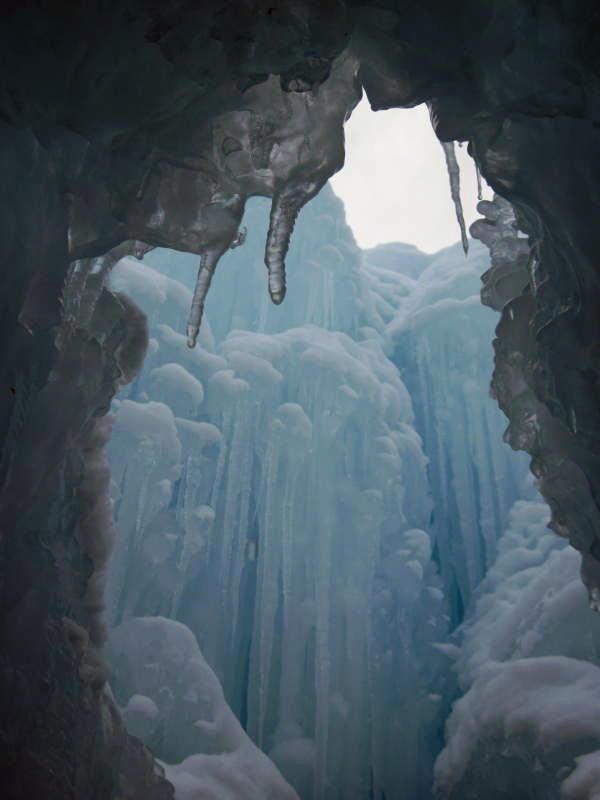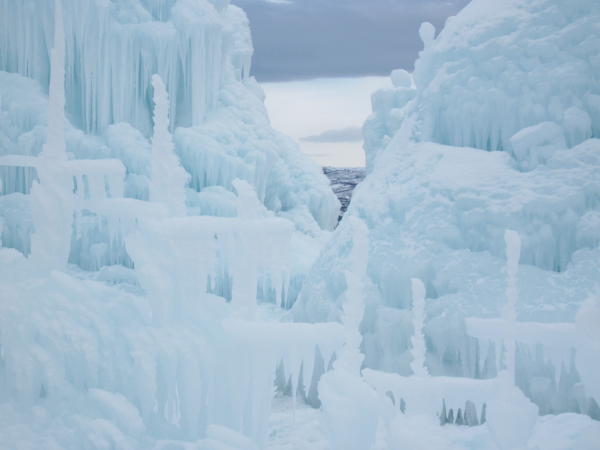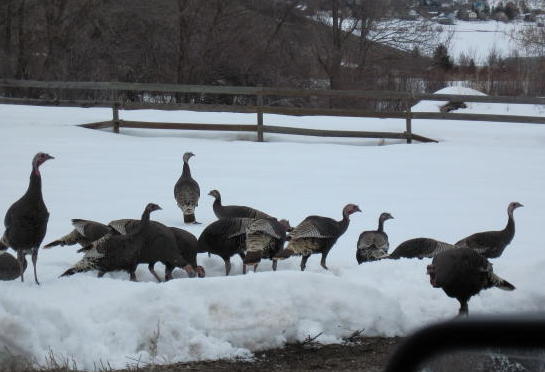 Wild turkeys on the way home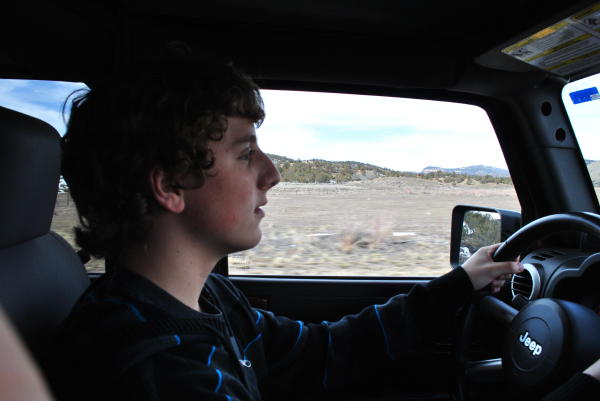 The next week school let out in Arizona and our oldest grandson Michael took turns driving to enjoy a week all together.
Sunday -- Foggy day on the mountain. We escaped to the Ice Rink


Gearing up


Kate, Michael and David


Kate, Laura and Jessica


Jessica hanging on


Penalty Box
Three days at Park City Mountain


Kate and David at the bottom of Payday


Charlie on Sitka (click on the picture to see an enlargement)


David


Michael


Mine building at bottom of Keystone trail
It has deterioriated since Tom B. took its photo (in 1995?)


View of town from Assessment trail

Nastar Racing
(Laura and the boys won medals)


Jessica gave it her best


View from the top of the course,
with Jessica on it and Kate well ahead.


Charlie and Laura


David and Michael
Alta -- Laura, Tom, Michael and David
(The girls, Charlie and I stayed home and worked the dryer problem)


Supreme lift has new technology -- a conveyor belt


Laura at top of Supreme lift


New rule -- Don't follow David!


Laura and Tom


Origami was big at the condo
Kate studies the book to plan her next object


Chess game always popular