NEW YORK, NEW YORK -- IT'S A WONDERFUL TOWN!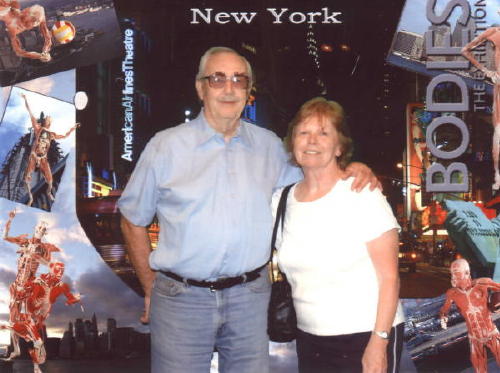 The above picture was taken as we entered the "Bodies" exhibition at South Street Seaport. It took us three hours to go through. Very interesting.
This year we have really enjoyed our timeshare in NYC. Seven nights broken into three separate visits. Some highlights:
Barge Music in Brooklyn followed by a walk across the Brooklyn Bridge at 11:00 PM on a Saturday night What a way to see the lights of New York!

New York City Marathon -- we cheered for the wheelchair participants and saw the first three women pass by in Central Park near West 61st St. All day long we met runners who had completed the run - wrapped in the warmup blankets supplied at the finish line, and many favoring an overworked leg muscle. Our hats off to them all.

The documentary "Pete Seegar: The Power of Song". Whatta guy! And his songs still ring true.

MOMA exhibit: Richard Serra - Sculpture: Forty Years. Fun to walk through.

Whitney Museum - Kara Walker: My Complement, My Enemy, My Oppressor, My Love. Parts were fanciful, parts disturbing. We recognized more of her art at Lincoln Center that night when we saw the opera "Agrippina".

And, of course, a few Broadway plays, some more memorable than others.

Restaurants - anything you want, any time you want it.