C H I N A, Oct 9 - 30, 2005
A tour sponsored by Rensselaer Alumni Association
Click a thumbnail below to see its enlargement. Use your back button to return to this page.
For faster viewing, I've grouped some thumbnails into .mov files, viewable with Quicktime
Beijing - Tian 'anmen Square and Forbidden City - view as an .mov file or click on thumbnails
Lunch was at the Imperial restaurant at Tian 'anmen Square

Arthur Cohen's photo of a 4 star toilet sign.
Sometimes we assigned our own star ratings.
The welcome dinner (Peking Duck) banquet was at a local restaurant that can serve 2000 dinners on 5 floors. The duck was carved and served in an elegant presentation. Click on the photo to view an .mpg file of this ceremony.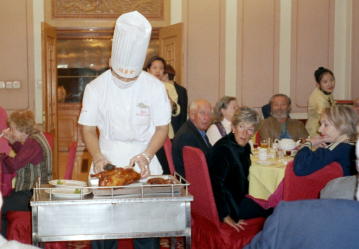 Photo by Shannon Bielaska
Ming Tomb, Way of Spirit, Chang Tomb, and just Two Hours on the Great Wall - view as .mov
Meeting with Beijing Chapteróby Bob Forman, President, Rensselaer Alumni Association
These next three paragraphs are taken from Appendix 1 of Basil Whiting's Summary, with photos contributed by one of the Chinese alumni at the dinner in Beijing.

"On October 12th Kelly Wei arranged a private dinner for our first International RPI Alumni Conference. This was an opportunity for our group to meet with members of the Beijing Chapter. Beginning in 1993, the Lally School had a specialized MBA program focused on China. Most of the members of the Chapter are graduates of this program. Now these young Alumni, mostly in their 30ís have assumed a leading role in both government and industry.

Twenty of the members of the Beijing Chapter joined us for a buffet dinner. At dinner the Beijing Alumni split up so that they had a presence at each table. I had the pleasure of having dinner with Xu Shufeng and Johnny Zhang. Shufeng is the Chairman of the Hebei District CATV station. His daughter Bing Xin Xu is currently an MBA student at RPI. Johnny Zhang has the responsibility of developing a healthcare practice for Intel in China. Guobin Zhao acted as our host and master of ceremonies. Guo is the founder and Chairman of a training company. It was a wonderful opportunity to swap RPI stories and for us to learn from some of those who were making the China miracle happen.

To commemorate the occasion I presented a copy of Gavin Menzies book 1421 which describes the voyages of Zhung He and his exploration of the east and west coasts of North and South America to Graham Wang. The book was signed by Dr. Jackson. Graham is the Chairman of the TEDA Chemical Industrial Park at Tianjin. TEDA is one of the economic development zones that have been set up by the Chinese Government to develop industry in China."
| | | | | | |
| --- | --- | --- | --- | --- | --- |
| Pre dinner cocktails | Formans and Wang | Shirley Gloss-Soler and guests | | Charlie Byrne | Matt Bielaska |
| Craig Viale | Charlie Bucci | Richard Heidel | Presentation of gift | Bob Forman and guests | |
Our third day in Beijing included a Pearl Center and Summer Palace, followed by a Hutong Tour by bicycle rickshaw through Xuanwu District, with a visit to a Chinese home with tea and talk. It was all so interesting we didn't get any still photos (Wes and Kathy did, though - Thanks!).
Summer Palace - view as .mov

Longest covered
walkway in the world

Marble boat
Attended the Peking Opera in the evening.
We flew from Beijing to Xian aboard China Eastern Airlines.
Xi'an - view as .mov
Attended the Tang Dynasty dinner banquet/performance. It was very much like a Las Vegas thing. On the return to the hotel we saw lights and activity in the public square, so we joined in. Folk were singing and dancing and were very welcoming to us, clearly recognized as foreigners. Check the video (.mpg) section for this clip.

The next day we toured the city wall and Little Wild Goose Pagoda, had a dumpling banquet (18 varieties!) for lunch, and toured the Terra Cotta Warriors. One of the three farmers who discovered the terra cotta army was on hand to autograph the souvenir book. Of course we bought one.

Little Wild Goose Pagoda

Defachang restaurant
offerings
The flight from Xian to Hangzhou was on Air China
Hangzhou - view as .mov
Walk through Wuagang Park and Cruise on Western Lake. Visit to a Tea Village
Lingyin Temple built in AD 326.

Carving in the
hotel lobby

Albino

Terraced tea farm

Farmhouses
The next morning we visited the Huqingyutang Traditional Chinese Museum (now a famous Chinese Medicine shop).
Took a train from Hangzhou to Shanghai.
There's a hard seat section and a soft seat section.
Guess which one we opted for?



Photo thanks to Arthur Cohen.
Shanghai
Visited a Children's Palace, the Bund on the Huangpu River, then the Shanghai Museum and Old Town.
At the Children's Palace, Debbie instigated a singing thank you to the children for their performances. It was fun.
Saw the Shanghai Acrobatic Show in the evening. WOW!

And the Bund at night is another WOW!


Photo by Arthur Cohen

And WOW! -- Charlie's Angels


Photo by Shannon Bielaska
A 2 hr drive to Suzhou to visit the Master Garden of Fishing Nets, the No. 1 Silk Spinning Factory, and then a boat ride along the Grand Canal, and Tiger Hill
Fly Shanghai to Yichang on Shanghai Airlines.
Farmhouse along the road to Yichang
Not so rich as the ones we saw in Hangzhou, but friendly occupants. The men were impressed with Basil's height.
Yichang - Three Gorges Dam Site
Embark on Victoria Star and sail through 4 of the 5 Gorges shiplocks.
Because of dry season, the water level is lower than needed for the last lock.
Sail through Xiling
Yangtze River (pronounced "Yonks" by locals)
Excursion to the Daning River (Little 3 Gorges)
Passed through Wu Gorge and Qutang Gorge

Stalactites

Singing in the gorge
for tourists

175 M marker tells where the water will rise to after 2009

Recent bridge built for 150 M will have to go as limit changed to 175 M
Yangtze River
Visit to Shibaozhai and Red Pagoda which rests against the massive rock behind it.

Shannon snapped this one of me on the top floor of the Red Pagoda
Thanks Shannon!
On our last night aboard ship the Forman's threw a party in their luxury suite with private deck. CLICK HERE to see some photos, plus our group's performance later in the evening's entertainment.
Chongqing
We were held up on the river two hrs outside Chongqing because of fog. While this probably inconvenienced the boat crew, we had plenty of time for our day in Chongqing. We visited Erling Park (6 pandas) and the Stilwell Museum.
Flew from Chongqing to Guilin on Xiamen Airlines
Guilin
Full day cruise on the Li river. Dry season. Water level shallow. Boats scraped bottom and all snafued up. It was hilarious. Boats bumped boats, crewman took turns poling, even the captain. At one point the captain visited a neighboring boat from which he was politely shooed away. See the clip (an .mpg file) HERE.
Night falls -- photo by Arthur Cohen

Because of delay at start, we exited river early and had a 2 hr bus ride back to Guilin. This actually was better than the original plan to visit a market and take faster roads home. We got to see alot of farms by the smaller roads. Whole families working at dusk in the fields. Even children raking the drying corn in the courtyards.
Visited Reed Flute Cave and Seven Star Park before leaving Guilin the next day.
| | | |
| --- | --- | --- |
| Tai Chai in the Square every morning | Sun and Moon Pagodas | |
Flew from Guilin to Hong Kong, considered an International flight
Hong Kong
Island tour included Repulse Bay and Aberdeen Fishing Village, Sampan ride, and a cable car to Victoria Peak.
We had time for a leisurely walk on the promenade on the "Avenue of Stars" and Charlie took a picture of Jackie Chan's handprints.
In the evening we joined the "Hong Kong by Night" tour which included a cocktail party boat ride in the harbor followed by dinner in a local hotel.
At this point we've used up our two flash cards and have switched to a throw-away camera.
The next morning we were on our own and so walked to the Museum of History, passing through Kowloon Park on the way. The Museum has an excellent, nicely organized exhibit of China history, plus a special display of waterway and overland routes by which East met West.
| | | | | | |
| --- | --- | --- | --- | --- | --- |
| Victoria Peak | House boat | | Smiles all around | | Signs of Prosperity |
| | | | | | |
| Swim lessons in one of 4 pools in the park | | Pedestrian overpass | | | Wedding |
Our farewell dinner was Western style in a private room of our hotel. CLICK HERE for those photos, plus Kelly Wei's farewell.
Bangkok
Most folk went home from Hong Kong, but eight intrepid tourists went on to Bangkok.
Thanks to Shannon for these photos. View as an .mov file, or click a thumbnail to see enlargement

In the sloppy muck

In the pond

Dave and Eileen

Shirley and Pedro

Shirley and Pedro
out of the pond

Wes and Kathy

Matt and Shannon

"Here are a few more, of the Temple of the Emerald Buddha, which is on the grounds of the Grand Palace in Bangkok. The buildings were just breathtakingly gorgeous! Unfortunately, these pictures don't catch the true beautiful colors and the gold leaf, and especially the tiny mirrors that were in the hand laid mosaics on each building. Every building was more beautiful than the last one."
--
Shannon
View as an .mov file, or click a thumbnail below to see its enlargement
| | | |
| --- | --- | --- |
| | | |
| | | |
Recap
This was a Vantage Deluxe tour. All hotels were 5 star. Pure bottled water was always available.
Some sickness did occur of course, but nothing a seasoned traveler couldn't handle.
Our tour manager met us at the airport in Beijing and accompanied us throughout every day. She was extraordinary in every way. She took care of every detail, remembering who doesn't like fish (me) to arranging at the last minute for two separate dinner groups when some wanted to see the waterfall display and others wanted to eat early.
There were 5 internal flights on as many different airlines, and one train ride. No luggage or tour members were lost.
When it was critical to leave on time and someone was late a local guide took the latecomers by taxi, so no one was inconvenienced.
These are mostly Charlie's stills and my videos (which I'll be reworking all winter). Thanks to Arthur Cohen and to Shannon Bielsaska for their contributions. Hopefully others will fill in areas we missed. Check back from time to time.