"THE GATES"
Artists Christo and Jeanne-Claude treated NYC to a unique display in Central Park for two weeks in February. They called it "The Gates". We, with our long-time friends Norma and Bill Hockenjos, took a day -- Friday, Feb 18 -- to see what it seemed to us.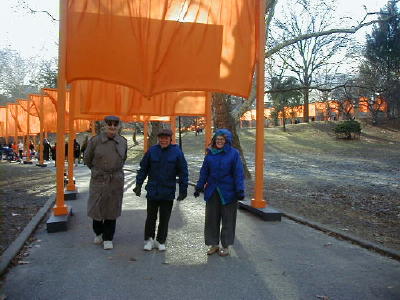 We walked a bit, then took the tram which circled the entire Park in an hour, allowing passengers to got off/on at designated stops. We got off at the Metropolitan Museum of Modern Art (MOMA) and spent a couple hours there. Then back on the tram to complete the tour.
It was a fun thing. Nothing I'd like to have in Central Park permanently. But for two weeks it brought people out in a holiday spirit walking and enjoying the spectacle. People smiled at one another. It was friendly. We even got a free sample of the material from one of the workers.
Following is a slide show of photos we took during the day, with a few added from my hiking friend Jackie Behson's day there.
Click here to access the slide show. Use your "back" button to return here.