1998 CHRISTMAS CARD PHOTOS

Our family taken at Thanksgiving at Tom and Carla's farm house.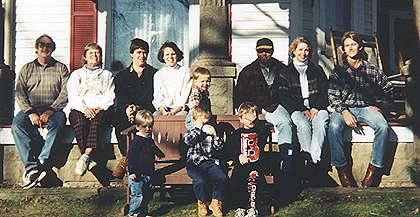 Left to right, Charlie, me, Tom & Carla Byrne, Tom & Laura Klebosky, DJ Byrne. In front are the grandchildren, David and Austin looking at the camera, Kyle and Michael looking at their hands.
Pictures from my sister Frances's families -- Judith, Frank, Anita and Lynn
Judith & Joe Osborne with their sons Patrick and Frank. Frank received First Communion last May
Frank & Christina Kolb/Gouveia's children, Andrew (4) and Kelly (7). They love school and Kelly is a great reader.
Anita & Wayne Mason's daughters Carly (10) and Jennifer (7) wearing Palm Trees. They live in Calif of course.

Lynn & Stefano Tedeschi's daughters,
Emma (7th grade), Maria (4th grade) and Stefania (2nd grade)
My brother Leo didn't live to know the newest family member,
his grandson Thomas Curtis born in September

Curt & Mittie Rooney with their children Caitlin and newborn Thomas Curtis.