Goebel Album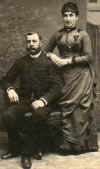 In August, 1999 we discovered this photo among the "stuff" in our basement.. Written on the back, in Evelyn Joy Byrne's handwriting is "Grandmother & Grandfather Joy". That's all we know about these ancestors.
---
Anna Humphrey sent these photos to me

Louisa Sittig Gable, wife of Adam.


Louisa Sittig with Ann Humphrey
& Bill Boos Jr., at 260 Second St.


Evelyn Joy


Alice Humphrey, Margaret
Boos, Evelyn Joy,
Table Rock Ladder 1924





Ann & Fred Humphrey with Humphrey, Albany Mounted Police Unit. Horse Farm, Normanskill 9/22/94.
---
These are from the attic in 354 Delaware Ave, Albany. They belonged to Eleanor Grinton
| | | |
| --- | --- | --- |
| Eleanor Grinton | ?, Eleanor Grinton, Aunt Lizzie, Vietch Grinton, ?, Anna, Banjamin and Bertha Humphrey (maybe) | Mama, Albert and Vietch Grinton, 1913 written on back of photo |
| Alice, Anna and Bennie Humphry, William E. Boos sitting on the crate | | Gravestones of Gironda Grinton, Charlotte Wareing, William L. Grinton |