The picture on the cover was taken about 1904 and captures the young Larson girls who figure so prominently in this book. From left to right they are Mary 6, Johanna 15, Matilda 9 and Laura 3. The older girls later chastised Laura for bending one leg under her skirt and therefore appearing one legged.
Foreword
When my sister Johanna died, I didn't fly out to California to attend her funeral. I wanted to remember her as I had so often seen her, loving, intelligent, and interested in all that concerned anyone she knew. So instead of taking the plane trip to be at her funeral, I began the task of writing this account, Johanna, As I Remember Her, in the hope that some future member of the family will learn a little bit about Johanna and those that knew her and loved her in life, will relive some memories of her in a joyful spirit, as she would wish.
My son Leo and his wife Alberta have helped me in this labor of love.
Chapter One
Your place in the order of the children born in your family can have profound effects on your later life. Much is said about the responsibility thrust on some oldest children or the lack of it demanded of some youngest children. But there are other effects. Of the first six children born to my parents, Sarah Jane and Olaf Larson, only the fourth was a girl, Johanna.
So, Johanna had five brothers to contend with when she was very young in her most formative years. In later years she often told, how, one Christmas Eve when she was small, she called up the chimney in the house where they lived then, "Santa, please bring me a sister!"
The five brothers harassed her, breaking her doll and other toys, making her the recipient of brotherly, but rough, pushing and shoving, not welcomed by the genteel Johanna. She carried on a lasting feud with "bad little boys," all her life.
Her older brother, Lawrence often told the story of the day when Johanna was about three years old. She had crossed a plank bridge that lay across a creek that ran through the yard of our home in the small coal mining town of Larksville, Pennsylvania, near Wilkes-Barre. Ma was calling Johanna to come back, but she couldn't seem to make her hear. So, Lawrence picked up a rock to throw at her, to "get her attention," as he later said. Ma read his intention and said, "If you do, I'll kill you!" That ended the rock throwing for that day. But Ma could not always be present to save her from her well intentioned but rough brothers.
When Johanna and brother Thomas were a little older, the church had a picnic at Mountain Top, above Wilkes-Barre. A railroad ran up to this high mountain crest and many of the churches of the Diocese of Scranton, of which Wilkes-Barre and its environs were a part, met there for the picnic together. They reached there on a train from Wilkes-Barre.
Ma had smaller children and couldn't go to the picnic, but she packed a lunch for Johanna and Thomas and sent them. Thomas carried the lunch, and he and Johanna were separated shortly after arrival at the park, and didn't find each other until time to go home. Johanna had been all day without lunch and this was her strongest memory of the day and another reason for her to dislike boys.
Her mother had other reasons for remembering that picnic day. All day, Ma had been busy washing clothes and attending to the children at home. About 5 P.M. when she was thinking that Johanna and Thomas would soon be home, a neighbor boy came running to her, out of breath, to gasp out, "They're all kilt." That was all he knew, but the news soon spread that one of the trains from the picnic had run away on its descent from the mountain and many of the people on it were killed. Ma rushed to the Fogarty's, a neighbor at whose house an excited crowd had gathered. There she learned that the train carrying passengers from a town near Scranton was the one that had crashed and her two children were not involved.
This train had been filled with people from the town of Pleasant Valley. There was so much crying and mourning in that town following the accident, that the name of the town was changed to "Avoca" which means "place of the waters" in Gaelic. It is named so today and is located about ten miles from Wilkes-Barre in Luzerne County. Thomas and the famished Johanna were delayed but safe.
Johanna was to later express her regret at the strictness she showed to her nephews and grandson. The effects of being raised with five robust brothers had lasting repercussions.
Johanna's place in the sequence of children born into the Larson family not only caused her to be constantly vexed by brothers in her childhood but caused her to assume the responsibilities of being the role model for three younger sisters as they grew up into young women.
At my birth on November 12, 1901, my sister Johanna was twelve years old. The spread of years between us was very evident as we grew up in the same household and as members of the same large family.
William, at nineteen, was the oldest, followed by Lawrence, seventeen, Thomas, fifteen, Johanna, twelve, Joseph, ten, Matilda, six, and Mary, three. Another brother, Olaf, born between Joseph and Matilda, had died from measles and pneumonia at the age of four. A younger sister, Ella, was born three years after me, but lived only nine months.
In my memory, Johanna was a young lady in the house when I was a child. She was the oldest of the sisters and had to first cope with experiences common to growing up and setting standards, hopefully to be passed on to the younger girls. She had to "break trail" for us three younger sisters.
She liked things nice in the house and sometimes when Ma went to Scranton for a week to visit Aunt Annie Coursey there in the High Works section of town, she'd leave Johanna in charge at home. There'd be arguments between Johanna and us younger girls about the work. She had definite ideas about how the house should be run, beds made, table set and everything in order. Sometimes we fought her every step of the way while she was getting us to do all that she wanted done. Her standards of housekeeping were always to remain a model to us, although much honored in the breach.
I took an interest in her dating and can still remember vividly many of her beaus who came to the house.
There was Jim Coughlin, a very neat and proper young man. We children were playing in the living room one evening when he came to call. When he came into the living room, he stepped back in surprise, and said, "Oh, are you moving?" We were scolded roundly by Johanna for having the living room so upset that Jim would think that we were moving out.
What had happened was that we were playing hide-and-seek, pushing the furniture out to hide behind it. The drapes had fallen to the floor in the process of providing cover for the players.
There was one beau named Hobbs, remembered fondly for the delicious chocolate covered peanuts that he brought to us younger children when he came to see Johanna. We would be ready for bed and had to sit quietly in the stairway leading upstairs to the bedrooms until Johanna brought us the candy. Not until then would we go to bed.
Johanna went to a "Company E" dance in Plymouth, Pennsylvania every Thursday night. This "Company E" was a part of the Pennsylvania 28th Division which could be, and was, mobilized in time of war. Each section of the state was responsible for a separate unit, for example, the Scranton area provided infantry, the Wildes-Barre area, field artillery, Pottsville, the engineers, and so on, for each area of the whole state. "Company E" was a group within the field artillery of the 28th Division of the Keystone State of Pennsylvania.
We children loved to see Johanna get dressed for the dance on each Thursday night. She'd have the lamp lit up in her bedroom, which was the large bay window room upstairs. We could stay and watch her dress, just as long as we were quiet.
I dreamed of the day when I'd be old enough to go to the "Company E" dance, but alas, when I grew up, there was no longer a "Company E Reserve" to run dances. All the young men were involved in active duty in World War I, which occurred during my high school years.
Chapter Two
Johanna never went to high school, as in those days the older children were sent to work early to help support the younger children. So at an early age Johanna went to work in the Hess-Goldsmith silk mill in Kingston, two miles from Larksville where we lived and just across the Susquehanna River from Wilkes-Barre. In time she became a weaver and then taught Matilda to weave also and later on, Mary. They were known as the "Larson girls" and could always get a job at the mill as they had the reputation of being good workers, skilled, and of good character. Sometimes Mary and Matilda took a summer off to work as waitresses in the Poconos or Atlantic City, but they could always go back to the mill to work if they wished. Johanna worked steadily at the mill. She never wanted to wait on tables at the resorts as Matilda and Mary did. Later on Ma and I joined these summer trips to work with Matilda and Mary, but Johanna never did.
I took an interest in the stories that Johanna told of the doings at the mill. She told of one day when Mr. Goldsmith, the owner of the mill, living in New York City, sent word that on a certain day he was coming for a visit of inspection.
The word came on the very morning of the intended visit and the bosses panicked. They gave the order, "Shut off the looms, clean around your loom and put the dirt out in the aisle for pick-up." They had thought to have it all cleaned up by the time Mr. Goldsmith arrived.
At the height of all this cleaning activity, when no looms were running and production was at a standstill, Mr. Goldsmith arrived with his retinue. They made the inspection trip over the entire mill, stepping over heaps of dirt and refuse, the machines idle or in the process of being hastily restarted.
In my imagination I could see the whole scene and probably enjoyed the discomfiture of the bosses. Even that young, I knew that I was a member of the working class and I had no sympathy for the rich Mr. Goldsmith from New York. I could picture the whole fiasco gleefully.
At another time, in the year 1913 or maybe earlier, Johanna told of their "sit-down strike" at the mill. The quitting time was peremptorily changed from 5 P.M. to 6 P.M. without consultation or negotiation with the weavers.
The workers were poor and their jobs were important to them, so they were afraid to protest openly. But on the first day that the extra hour went into effect, when 5:00 P.M. came, looms were stopped at a given signal and the weavers took a seat and sat out the extra hour. They did this for several days and then the old quitting time was resumed without comment. I was happy about this victory of the workers and gloried in their spunk.
This was long before the more famous wave of "sit down" strikes of the 1930's but they were motivated for the same reasons.
In later years they often spoke of their years at the mill, not fondly, as it was long hard work, but they never forgot it entirely. Matilda learned how to make a weaver's knot, and used it up to her eighties, when she tied packages to be mailed.
They often spoke of funny things that had happened during the years when they had all worked there together and laughed about them.
For example, they spoke of Johanna enjoying her bean sandwich so much, and remarking on how good it was to her sister Matilda and a group of mill workers who were eating together. Sister Mary was nudging Johanna to keep still about the beans, not to let the others know that they were eating something as plebeian as bean sandwiches.
Quite a few Larksville girls worked in the mill and they walked together the two miles to and fro each day. Included in these two miles was a long steep hill called Rice's Hill. Going to work in the morning when they were fresh and it was downhill was easy, but coming home it was uphill and they were tired. Nevertheless, they were led by the three Farach sisters who set a brisk pace, coming and going and all the other Larksville girls followed swiftly, speeding up Rice's Hill on their way home, their legs "going like pistons," as Matilda once said.
I remember my three sisters coming home for supper, eating in the kitchen at dark in the wintertime, windows steamed up by the heat from the stove and the cold outside. I'd be helping Ma get the supper and set the table and light the lamps. I wrote a poem almost seventy years later evoked partly by this scene. I called it "A Poem of Thanks" and the first stanza said:
Thank you for relatives living and dead
who loved me as a child,
and who love me now,
I feel their love as soft lamplight that surrounds me.
I never had any thought of working in the silk mill myself, but I did work in the cotton mill and also the lace mill during summer vacations from school.
Clothing mills, offering low wages in exchange for long hours and other sweatshop conditions, were a common phenomenon in mining communities. They could draw on a large female pool of cheap labor from the families of ill paid miners. My pay one summer that I worked in the cotton mill in Wilkes-Barre was three dollars per week, and out of this I had to pay car fare to Wilkes-Barre of ten cents a day, a nickel each way.
Chapter Three
My memory of Johanna is hazy during my early childhood years. We seemed to be on different courses, she busy with her adult life and I, as the youngest of the family, playing, going to school, and not too interested in what didn't apply directly to myself.
I do remember vividly, the September of 1912 when I was ten years old. Johanna took me with her to Dushore, Pennsylvania. She was engaged to George Saxe who lived near Dushore and had a farm there. Johanna was to go to the county fair with him and I was to stay with his mother while Johanna and George were at the fair, which was held in nearby Wyalusing, Pennsylvania.
In all, we'd be there several days. Dushore was a three hour ride from our home. We boarded the train in Kingston. In those days we had no automobiles, and had to depend on public transportation or horse and buggy. It was about seven miles from George's home to the railroad station in Dushore. George met us at the railroad station in Dushore and took us to his mother's by horse and buggy.
Friends of Johanna, another branch of the Saxes, lived across the road from George's parents. These friends also went to the fair, taking their two youngest children with them, and leaving two older children home to play with me. They were Kathleen, ten, and Allie Mae, nine.
Supposedly, Mrs. Saxe was in charge of us but Kathleen, Allie May and I had a wild day of unsupervised play. Kathleen took charge - a rare opportunity to show me, a miner's daughter, how farm children lived.
Kathleen showed me the barn, lit a lantern so we could see it better, disregarding all that loose hay and flammable materials. Then we climbed up into the haymow and jumped until exhausted, scattering hay all over the place. Then we chased and corralled a cow so Kathleen could show me how she could milk it. Tiring of all that activity, we walked slowly up the road so she could show me the house where Johanna and George would live after they were married.
We sat on the porch there and ate apples after we chased the bees away from them. While sitting there enjoying the apples, we spied a horse and buggy approaching going in the direction of the Saxe house. We ran out and hitched a ride on the back of the buggy. This was fun for the young man driver so he got the horse to run fast and threw us off.
I had the wind knocked out of me and lay where I had been thrown until I could catch my breath and get up. Kathleen was way ahead of me. She was running down the road shaking her fist at the driver.
We finally walked to her house and sat quietly recuperating, but not for long. Allie Mae was there waiting for us and threatening to tell their mother on Kathleen. But soon she joined into the spirit of the day and came with us while Kathleen showed me all over the house. We played the piano and ended up powdering ourselves at her mother's bureau. We even powdered our bare feet and legs.
After this hectic day, we reported to George's mother who gave us supper and put us to bed in a small room adjoining the kitchen in her house. She had been busy all day making apple pies and probably making things look nice for the eyes of Johanna, her future daughter-in-law.
I was asleep when Johanna and George returned from the fair that night. I was awakened early the next morning to be told that our father had been injured in the coal mines where he worked. We were to get the early morning train home and George would take us to the railroad station.
Evidently a lot had happened while I slept. The Saxes had no phone but a call had come to a neighbor with a message for Johanna. Her father had met with an accident in the mines and she and Laura should come home immediately. The neighbor rode his horse over to Saxe's and the message was waiting there for Johanna when she returned from the fair. Plans were made then for our return next morning but I knew nothing of them until I was awakened and told to get ready to go home. I wondered why Johanna was crying.
Our brother Joseph met us in Kingston and told us that Dad was dead. Johanna was crying. Joseph leaned down to tell me. When he said that Dad was dead, I remember saying, "No, he isn't."
Johanna was always very close to Dad and she was greatly shaken by his death. She had been his favorite child especially when she was the lone daughter for so many years. Johanna had been named after Olaf's mother and her frugal, fastidious housekeeping reminded him of this distant but much loved mother in Sweden.
When we reached the house, Ma told us that the night before the accident Dad had asked where I was. He had known that Johanna was going to the fair but he didn't know that she was taking me with her. When Ma told him he said, "I like to see the older children share their pleasure with the younger ones." Hearing that Dad had said this was a comfort to Johanna.
in line with this thought, I had often heard Ma say that the criteria as to whether parents had been successful in raising their family was how the older children loved and cared for the younger ones.
Later on, Johanna and George's engagement was broken. George had purchased a new farm with a house on it. He hadn't talked it over with Johanna nor let her see it first. When she remonstrated, he said, "The man decides those things." This didn't fit in with Johanna's idea of how a marriage should work so she called off the engagement.
George, never married, later died of tuberculosis. Two of his brothers also died from this disease, thought to be caused in their case by drinking unpasteurized milk from a tubercular cow.
Chapter Four
The years between 1912 when Dad died and 1918 when Johanna married Leo Gallagher are also hazy in my mind as far as Johanna is concerned. Certain events stand out in my mind, but, on the whole, I didn't seem to have much contact with her. These were my adolescent years, from 11 to 17, and I was so busy about my own affairs that I didn't pay much attention to what was going on with her.
My primary impression of these years was that our home changed from one of security and tranquility to one of a fortress besieged. After Dad's death there was no stabilizing steady income to maintain the family. Willie had left home in 1900, married Mame Healy and worked in the mines. He was too busy with his own life to give Ma any help. Tom and Lawrence were preoccupied with homesteading their ranches in Oregon and made only rare visits home. Joseph had married Martha Mott in 1916 and he too was too engrossed in his own affairs to help much.
It was left to Ma, Johanna, Matilda and Mary to support themselves and contribute to the upkeep of our fatherless home all during those years. Being the baby of the family, I was largely exempted from this joint effort and allowed to continue my education during the school year.
Ma opened her home to boarders whom she housed and fed to provide a scanty income. The two most long standing of these boarders were native Irishmen who labored in the coal mines, Don Prendergast and John Burke. John in particular stayed in our home so long that one of the upstairs bedrooms was known as "John Burke's room" as long as the house stood and was so identified to overnight visiting family members when beds were assigned for the night.
To supplement this steady but small income Ma worked at weddings and other special parties given by the wealthy Reynolds family of nearby Kingston and those of their affluent friends.
Matilda and Mary escaped the mills by working as waitresses away from home a great deal of the time. In summer Ma and I joined them in the Poconos or at Atlantic City, working at anything we could get. We needed this extra annual effort by Ma and me if we were to be able to buy enough coal to heat the home during winter and to pay the annual taxes and so maintain the family home. Ma always referred to this homestead as "headquarters." She felt that her home was a headquarters to which her children could always repair. I don't think she knew of the poet Robert Frost but she agreed with his thesis set forth in his poem "The Hired Man," "Home is where when you have to go there, they have to take you in." Family and friends could always find a bed in our home and be sure of a sincere welcome.
Johanna never joined us on these work excursions but stayed at home to cook for the boarders and to work in the mill or at times, work in the wealthy homes on River Street in Wilkes-Barre to contribute her share toward maintaining our home. In these wealthy homes, she normally fulfilled the functions of what was called "a second girl." She worked in the public rooms downstairs. She would answer the door, polish silverware, wait on table and be responsible for the maintenance of this public part of a rich private home.
This work gave direction and substance to her fastidious housekeeping ways. My son Leo reminds me that no other family table of any relative was more elegantly set for the evening meal than in her home even in the depths of the depression when he was growing up. There would be cut flowers in season in the center of the table. Napkins in rings were set at each place setting of gleaming china and ice water was served to each from a large sparkling pitcher. She even forced him to not only wash his hands but also his face and to comb his hair. Unaccustomed elegance. This attention to the details of gracious living was to stamp her every future home however simple.
It was during these years when we sought to maintain our home by working elsewhere that a neighbor, Jammers Rowlands, was heard to remark, "The Larsons are always going in and out the lane with their bloody suitcases." And so we were. Perhaps all this peripatetic coming and going contributed to making most Larsons a family of travelers. In later years we never feared to move long distances when in pursuit of work. We went to where we thought we could best make a living. "Go where the money is" became a family slogan. Also, the difficulties of travel never impeded our visits between various members of the family though widely separated by geography and while Ma lived, we always came home to Larksville. We knew how to pack a bloody suitcase and we always returned to that lane.
It was also during my teenage years that Johanna met her husband, Leo Gallagher. A wedding was being held at our house. It was the wedding of a distant cousin, Mary Gerrity to Pat Boyle. Mary Gerrity lived in the home of a wealthy Wilkes-Barre family. She spent her days off at our home because both her mother and father were alcoholics and their home was not one in which to soothe oneself after a hard week's work. So it was natural for Mary to have her wedding at our house, her second home.
The best man at Mary's wedding was Leo Gallagher. That's when we met Johanna's future husband for the first time. We were all taken with Leo's good looks and kind ways. Ma said to Johanna, "How come you can't get a beau like that?" A challenge given, a challenge taken.
At the time Leo was keeping company with the bridesmaid in the wedding party, Agnes Early, a cousin of Mary's. After the wedding, their courtship broke up when Agnes "damned near drowned him," as Leo said. They had been swimming at Harvey's Lake nearby, when Agnes panicked and called for help. When Leo tried to bring her to shore, she grabbed him and impeded him so much that he had all he could do to bring her in safely. That ended the romance, Leo wanted no more to do with her.
Mary and Pat Boyle went to live in Plymouth, a town several miles from Larksville. Leo Gallagher owned a horse and wagon and next day he came up to our house to get Mary's personal belongings and wedding presents and take them down to her. He thus became further acquainted with the whole family including Johanna. We children admired his big brown eyes and pink shirt. When I told him about that in later years, he said, "I never owned a pink shirt in my life." But he had.
Before the marriage was a year old Mary was pregnant and Pat Boyle was killed in the mines. Johanna was always one to help those of her family or others she held dear. It was not only the help expressed by her deeply compassionate and sympathetic nature but the kind of material and physical help few are willing to provide. She looked at the problems caused by Pat's death squarely and immediately took steps to alleviate them. Mary was alone and pregnant. Therefore she would move in with her to ease her loneliness and aid her through her pregnancy. Mary needed money to bring her child to term without the financial support of a husband. Therefore, Johanna would pay Mary for her room and board. The move required Johanna to seek work at a nearby mill which she managed to do. These fiercely practical efforts seemed capped by failure when Mary's baby died a few hours after birth but they were to harvest future benefits at the time unknown.
Because Leo Gallagher was a friend and had been best man at her wedding, Leo frequently visited the home of Mary which was much closer to his own home than ours. The acquaintance of Johanna and Leo spawned at Mary Gerrity's wedding blossomed into romance during the time Johanna lived with Mary.
Johanna and Leo Gallagher were married in 1918. They began housekeeping in the smaller house next door to ours. That smaller house was the first one that Dad and Ma had bought and lived in when they were first married. As the family grew larger, they built the large house where I was born. I was the first one born in the new house.
Mary Gerrity repaid her debts to Johanna and to Ma much later. In 1944, Ma, then eighty-two years old, developed cancer of the throat and Mary Gerrity moved back into her second home to be with Ma in the last year of her last illness and stayed until her death in 1946.
Thus Johanna's good deed sown in Mary Gerrity's crisis was reaped by Ma Larson when Johanna, living in Washington state, was too far away to give the personal help needed.
Chapter Five
The first world war was began in Europe in 1914 and before it was over in 1918 it spread to many parts of the world. The United States entered this war in April of 1917 and fought in it to its conclusion in November 1918. This meant that when Johanna married Leo on April 3, 1917, they did so amidst a nation absorbed in the activities of a great war.
Leo, like all the men of his age group had to sign up for the draft when the war started. When we entered the war our military strength consisted of 196,000 men. During the war four and a quarter million men were to be selected from a total list of twenty-four million to bring our fighting strength to a wartime footing. Married men were in most cases excused and many men married for this reason. Leo made it clear from the beginning that he would not ask that his draft status be changed because of his marriage to Johanna. In this Johanna acquiesced and made plans to move home if Leo were drafted. Fortunately he was among the almost twenty million men not inducted into active service.
Though the Gallaghers escaped the harrowing consequences of military duty by Leo in that conflict they could not escape the debilitating effects of one of the aftermaths of that war. The great flu epidemic of 1918-1919 struck at military groups and civilians alike with deadly evenhandedness. Twenty million people died of that flu worldwide, a half million in the United States.
Elizabeth must have been conceived shortly after Johanna's April 3rd marriage because she was to be born on January 18, 1919 a bare nine months and two weeks after the ceremony. This meant that Johanna was far into her pregnancy when the epidemic struck that winter of 1918-1919.
At first Johanna seemed unperturbed by the increasing signs of deadly illness spreading rapidly all around us. Perhaps this was because our immediate family was unscathed. But then the schools in Larksville were closed for six weeks. People were not allowed to gather neither for entertainment at movie houses nor for religious services at churches. They could not even enter the homes of those that died in the epidemic; their corpses were sometimes displayed for viewing at a living room window. Johanna continued to visit her friends and attend gravesite prayers for the dead until one day she went to visit a friend who lived on Pringle Street in Kingston. Pringle Street leads to the large cemetery on Pringle Hill, site of our family plots and those of many of our friends, relatives and neighbors. She saw there what seemed to her to be a constant parade of funerals. The funeral directors would no sooner bury one body than they would rush down the hill to get another. Johanna returned home chastened and began to think more seriously about the epidemic.
Johanna and many others, rightly or wrongly, thought they saw a pattern in the deaths. This flu seemed to strike hardest at the healthiest young men and women, many of the women pregnant, of the populace rather than at its oldest and weakest members. She noted for instance that the Noylis family of Edwardsville, first cousins to Mame, my brother Willy's wife, lost five strong young men ages 18, 10, 22, 24 and 26 as their tombstones in the Pringle Hill cemetery attest to this day. Mame's brother, a strapping young man, and her sister, scarcely a bride and pregnant came to Willy's house to be nursed and subsequently died there. Willie chided Johanna because instead of coming to help with the nursing which would have been her instinctive move, he noted that she seemed to bury her head in her coat and turned away when passing the house. But Johanna now had a firmer commitment and decided to abandon her former visiting, nursing, and attendance at gravesite ceremonies. She committed herself to the nurturence of the life unborn within her and deferred her natural instinct to help others in need.
Johanna again met a basic problem in her life and conquered it though to do so she had to suppress her natural instincts.
The baby Elizabeth, well guarded by Johanna throughout this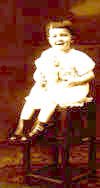 fearsome epidemic, was born in 1919 and quickly captured all of our hearts. She became the "baby" of the whole Larson family still at home. She was a "colicky" baby and Johanna had her hands full, as did Leo. He used to say, "She's balking again," when Elizabeth wanted her own way and insisted on getting it.
The naming of Elizabeth demonstrated an important lifetime characteristic of Johanna. Leo's mother, Elizabeth Curran Gallagher, had died when Leo was born. His paternal grandparents took care of him until his father married again when Leo was quite young; he then had a new mother, Margaret. She was the only mother he knew, and he loved her dearly. He planned to name his baby daughter after her but his father asked that the baby be named Elizabeth after his first wife and Leo's natural mother.
Johanna concurred in this and thought it right that Elizabeth Curran, who had lost her life in giving birth to Leo, should be remembered in the naming of his child. Johanna was that way, willing to go along with things that she felt were fitting and conducive to the happiness and wishes of others.
This willingness was again put to a severe test in 1919. My brother Joseph and his wife Martha with their children Marian and Edward couldn't find a house to rent in Larksville. He had to live in Larksville because he was principal of the school there and the school board policy was that school personnel must live in town. Since Ma would not welcome Martha into her house as a long term resident but much admired Leo Gallagher it was the Gallaghers with their baby who moved in with Ma in the big house next door and Joseph and his family moved into their smaller house. It was generous of the Gallaghers to help Joseph in this way, as it entailed a lot of extra work and accommodation. Not many people would give their home to another no matter how close the relationship.
Ma went back and forth to Atlantic City, New Jersey to work for long spells while the Gallaghers were in her house. I was attending the East Stroudsburg State Normal School at this time (1919-1921). When I came home on many school vacations I lived with Johanna and Leo and Elizabeth. They were always very kind to me.
In 1922 while the Gallaghers were still living with us, we had a frightful scare occasioned by the three year old Elizabeth. She contracted diphtheria and the house was quarantined. I had to go and board with the John Scarf family, close family friends, so that I could continue to teach in the Larksville school. For a while her life hung in the balance but she gradually recovered.
When Elizabeth was getting better and could be downstairs, I used to go into the yard by the dining room window and Johanna would bring Elizabeth to the window for me to see. She'd be in her mother's arms in a blanket, and she would kick her foot at me, mad because I didn't come in. Elizabeth had come close to death and we were all so thankful and relieved when she recovered. I was also glad to come home again from the Scarf's.
In June of 1922, just as I finished my first year of teaching in Larksville, Joseph moved into an apartment in town and the Gallaghers moved back into their own home. Ma returned from an extended stay in Atlantic City and we thought that life had settled in a pacific pattern.
Chapter Six
It seemed now that the family was due to have a peaceful era but such was not the case. The next four years, starting with 1922, were filled with upsets and changes for us and Johanna was involved in all of them.
Larksville was a small coal mining town in the northeastern Pennsylvania anthracite coal region. Many of the town's fathers and sons had died while mining its coal underground in unsafe conditions to satisfy the hunger for profits on the part of the owners, in my opinion. Now in 1922, the town above ground was also to be victimized by those same owners.
As the coal was mined, the work progressed to the limits of each coal company's holdings; the miners left pillars of coal standing to protect the surface from caving in. But when they had mined all the coal as far as their boundaries, they started mining back, "robbing" the pillars as they went. This caused the surface to fall in, causing great damage to life and property. By buying all the houses before they started this dangerous procedure, the companies would forestall damage suits and could do as they pleased.
Our two houses in Larksville remained in the family until 1921 when the coal companies bought nearly all the houses in Larksville including ours so they could rob the pillars of coal under them at will.
In 1922 the coal companies at last were ready to make their move. Since they had bought all the houses they had been busy with their plans to evacuate the people and cave the houses when they would remove the sustaining pillars of coal underneath.
The coal companies had bought most of the houses on the mountain above Larksville. They knew that these houses wouldn't be affected by the cave-in but the people who lived in them and sold to the company had to move out so the houses would be vacant. Most of these people bought and moved out of town, many of them moved to Kingston. The people living in the houses in the town which would be affected by the proposed cave-in, would be moved temporarily to the houses on the mountain and their house in town boarded up. The plan was that they could return to their own homes when the caving was over and their house adjudged safe for occupancy. So the Larsons and Gallaghers were given two houses next to each other on the mountain and the move was made.
Throughout our moving from one beloved home in the valley and our adjustment to our temporary residence on the mountain above the town, Johanna acted as a steadying force. She was Ma's chief support during these trying times. Ma and I and the Gallaghers formed one family both in the valley and on the mountain.j
At this time of all the moving I was teaching in town and can recall seeing from my classroom window all the moving trucks working their laborious way up the mountain road. It gave me a queer lost feeling.
During the time the Larsons and Gallaghers lived on the mountain above Larksville from the spring of 1922 to the spring of 1926, the family suffered a further upheaval by the crisis which beset my brother Joseph's family. He and Martha broke up their marriage and separated, each taking one of their children. Martha took the two year old Edward and left him with her parents in Wyoming, a town about seven miles from Larksville, while she vanished to parts unknown for two years. Joseph came home with four year old Marion.
Johanna helped take care of Marion during the two years she was with us and Marion and Elizabeth became close playmates. Johanna and all of us loved Marion very much. I remember taking both little girls on many outings. We would go to Wilkes-Barre on Saturday afternoons just for the trolley ride and a treat. One time I bought each of them a broom in the ten-cent store and they swept their way all along the sidewalk to the street car which would take us home. Johanna said many years later that I had always been willing to mind Elizabeth when she was young and always did it cheerfully. That was easy for me because I loved Elizabeth as my own and extended this same love to Marion during her stay.
I was able to nurture this care for Elizabeth all through my life right up to the present but not so with Marion. Martha came back from California, as we later learned, and reclaimed her children.
Johanna and I frequently took Marion to visit her brother at Martha's parents' home in Wyoming. Consequently, we were not surprised when Martha's father, Mr. Mott, appeared on foot at our home on the mountain and said that he wanted to take Marion for the afternoon to a family reunion in Wyoming. While Johanna and I whisked Marion away to get her properly dressed up for the occasion, Mr. Mott calmly explained to Ma where he thought the roses which he promised he would bring when he returned Marion might be planted. Neighbors told us later that Martha was in Mr. Mott's car which was parked out of sight. Marion and Edward were never seen by our family again.
In June 1926 Joseph married Edith Kern whom he had met at summer school at the University of Pennsylvania. They went to live in Reading, Pennsylvania where Joseph got a job teaching school. This second marriage of Joseph proved to be a very happy one in contrast to the first. They were blessed by the birth of a daughter, Betty Jo, who brought joy into their lives and gave them three grandchildren to love, Becky, Nancy and Richard Magners.
It was during this time that we lived on the mountain that I became a "flapper" along with most of my peers. Looking back on it, I think it was probably an aftermath of World War One, a sort of release.
We "flappers" wore our clothes loosely, dresses full and long and coats several sizes too large for us, and never buttoned, no matter how cold it was. The coat hung off the shoulders in a gesture that said, "who cares?"
We wore four buckle rubber overshoes or artics in winter, but under no circumstances would be buckle them up. They hung loose and flapped as we walked; maybe that's why we were called "flappers."
At a busy intersection at the Square in Wilkes-Barre one day, a girl's loose artic buckle caught in a man's pant's leg as they passed each other when the green light showed. The man was thrown down and his leg broken. The policeman at that crossing waged war on the girls from that time on. He'd holler, "You girls buckle up those artics, or I'll arrest you!" I don't know of him ever arresting anyone but we walked carefully across that intersection and kept away from men crossing with us.
Up to that time, we young girls had carefully tended our hair and took great pride in it. Pinning up the hair or braids was a sign of growing up in our eyes.
Then came the fad of cutting the hair off, of "bobbing" it, as we said. In 1918 bobbed hair was very rare but during the early twenties the fad spread quickly until by the end of the decade it was rare to see girls in their twenties without bobbed hair and it was not uncommon among older ones. Young women also adopted the small cloche hat which fitted more tightly on their now bobbed heads and consequently depressed the industries which provided milliner's materials, hair nets and hair pins.
It was at this time that there was a so-called "Jack-the-Ripper Scare." It was said that this mysterious Jack would grab girls and cut their hair off and then disappear. It was finally decided that there was no such person, the girls did it themselves and then blamed "Jack-the-Ripper" to avoid the anger of their parents. I didn't blame Jack but Johanna and Ma certainly blamed me.
The fashions and fads of the so-called "roaring twenties" stirred different reactions among people at the time, particularly according to their age and ability to adjust to changing circumstances. My mother's reaction was one of steadfast negativism. She, for instance, bemoaned all the hours she had spent brushing and combing my hair all through the years and then when I got old enoug

h to take care of it myself, I cut it off. She thought my open coat an invitation to pneumonia and my flapping artics as insane as walking around with your shoes unlaced. She was horrified that I took swimming lessons at the Wilkes-Barre "Y" in winter and waited for and rode the streetcar home with my hair not yet perfectly dry. She was uncommonly speechless when Henry Wolfe took me to dinner in the Poconos on his motorcycle.
In contrast to both Ma's and my reactions to all this, Johanna retained her equilibrium. She was always interested in the doings of those she loved. She took great interest in my activities and I spent hours in confiding their details to her. Johanna was always characterized by her great interest in others and her patient, questioning, uncensorious way of listening to what they said. Reflecting upon a long conversation with Johanna one would realize that it consisted mainly of your telling and Johanna questioning.My bobbed head caused great distress to Johanna when I did it. The first time she saw it, she burst into tears and this made me a little sorry that I had had it done. In later years, she was to have her own hair bobbed but this came much later. Being twelve years older than I, married with a child, she never became a flapper but loved to ride in the Willys Knight car with me to visit various friends.
I led an active social life during those years on the mountain. At one of the church dances I had met Frank Rooney and we began to "go steady." He worked on the Lackawanna Railroad as a trainman. Word got around among his family that Frank was going with a Larksville school teacher and she lived away up on the mountain. They were surprised that he'd walk all the way up the mountain from Larksville Corners, where the closest street car ran.
Johanna and I had always been close and so I was gratified to see that Leo and Frank too became fast friends and the four of us enjoyed many pleasant times together.
One Sunday afternoon Frank and I, Johanna and Leo and Elizabeth took a walk down to see what condition our "town houses" were in. They had been braced up by two by fours for the expected cave-in and had come through the drop relatively intact. And so, in 1926, we moved back into our own houses. Frank helped with the moving. Our brother, Willie, was also a big help. He was chief of police in town and could even get men to move our garage down from the mountain. Our mountain sojourn was over.
Chapter Seven
Frank and I drew even closer to Johanna and Leo after our marriage on June 29, 1926 from the home of my birth. While Frank and I were away on our honeymoon to Prince Edward Island, Elizabeth had been burned by a "Roman candle" during the fireworks celebration on July fourth. Her whole neck was bandaged when we returned but luckily she recovered; though she still bears the scars earned at this celebration till this day. As a consequence of this, the Gallaghers and Rooneys never had fireworks for the children to ignite from that year forward.
After Frank and I were married we lived in a nice apartment in Kingston on Chestnut Street. Frank could walk to work from there and times were good on the railroad. Johanna and Leo were with us often, and so was Elizabeth. Work in the mines was getting slack and the Gallaghers were getting worried.
One day Leo's father, Con, short for Cornelius, came to my door selling socks and stockings. He was out of work in the mines in which he had labored all his life. I bought some of his wares and he and I had a cup of tea together. He spoke of Johanna then and said what a good wife she was to Leo. He said that she was careful of their money and provided a loving, comfortable home. He had a special feeling for Leo, his first born, so soon deprived of his young mother. But Mr. Gallagher was quick to say that his second wife had been more than a mother to Leo. She had taken him into her heart and loved him as her own. Leo had confirmed this. He always said that as far as he was concerned, she was his mother.
Looking back on my talk with Con that day, I see it as a symbol of the breakup of the traditional Gallagher dependence on the mines for their livelihood. Con had already forsaken this allegiance; Leo's break would come more slowly but be made during the great economic depression that had already started in the coal regions.
In April of 1927, Frank and I became the parents of our first born, named Frances after her father. Johanna came to the hospital with Frank and me and stayed the long hours before Frances was born. The long labor was too much for Dr. Edwards, our family doctor, an older man. He collapsed and Dr. Agnes Flack, an intern in the hospital, was called to substitute for him in what was turning out to be a very difficult birth. Frances was finally born at 12:40 A.M. on April 16, 1927. Dr. Flack stood by her until 5 A.M. as a heart machine kept Frances alive. If she had been born at home, which was customary at the time, she would have died. When Johanna realized that Frances' frail life hung in a wavering balance she came into the delivery room and gave her niece conditional baptism. Johanna, though distressed at the possible consequences of this crisis, faced the problem squarely and did what she thought had to be done if her niece was to see heaven according to Roman Catholic doctrine, interpreted literally at that time. This belief held that an unbaptized child was destined for an afterlife in limbo, and would never enter heaven. A lay person could administer "conditional baptism" which would prevent this and if the child lived the baptism could be made regular by a priest at a church later. Johanna was ever a true believer in Roman Catholicism and she took the steps necessary in her belief to gain the benefits for her niece of that religious heritage.
Frances lived and Johanna came to help me take care of her when I got home from the hospital. Elizabeth, age seven then, was with her mother and Johanna and I presented Frances to her as her new little sister.
The Gallaghers were with us at that Kingston apartment in 1927 the night that Lindbergh landed in France on his lone trip across the ocean. We had all heard that he was airborne and tensely waited word that he had succeeded in his attempt to fly his plane, "The Spirit of St. Louis," single-handed and non-stop from Long Island, New York to Paris, France. We had no radio but got the good news of his success by hearing the colliery and mill whistles blowing, soon joined by car horns and the sounds of the townspeople laughing and cheering as they filled the streets. Johanna, Leo, Frank and I joined them there with the infant Frances wrapped in a shawl.
Before Frances was a year old, work on the railroad and in the mines became slack. This was a time of great worry to all of us. Our rent in Kingston was forty dollars a month. The Gallaghers were living in the little house next to Ma's and their rent to the Coal Company was eight dollars each month.
Even so, times were getting harder and Leo and Johanna went to work for Mrs. Ursula Reynolds in Kingston, a wealthy woman, and Elizabeth stayed at Ma's while they were away.
Frank and I were expecting a second baby in1928 and Frank was working about three days a week. We moved up to a house near Ma's, just over the border between Larksville in Edwardsville. The rent for our six room house was only seventeen dollars a month and that was a saving.
The Gallaghers came home to their place next to Ma's every Sunday, and we Rooneys usually joined them there. If Frank was working on Sunday, I'd take Frances visiting the Honors or some other friends. Leo Gallagher would carry the baby for me to the street car and he'd meet me on my return trip and carry the baby home for me. I'm sure that Johanna had asked him to do this for me.
Leo would kid Frank about the name of the expected baby, saying that if it was a boy, it should be named Leo and if a girl Leona, because Frank already had Frances named for him. Johanna would say to me, "You name your baby what you want to, never mind Leo and Frank."
I wanted to call the baby Lars if a boy but Frank said it was a Swedish name and didn't go with the surname Rooney. I think he really liked the name Leo as he had been raised with Leo Mahon, his mother's brother and always roomed with him.
Frank was at work in Stroudsburg when I went to the hospital. Again, Johanna was with me. The baby boy was born at 9:00 P.M. on Friday, the thirteenth, July, 1928 and there was no mention of a name. Johanna went home when all was well. Frank and Frances were staying at Ma's next door to the Gallagher's.
Frank came home from work the next morning and Leo went to the hospital with Frank to see me. On the way, he told Frank that he had been with me when the baby was born, and I said the name was to be "Leo." While visiting me, Frank left the room to go downstairs to the business office to arrange the financing of my stay. Leo told me that Frank had made him very happy by telling him that our new son was to be named Leo.
Both Frank and I were puzzled about the fact that the other had decided on the name Leo without consulting each other. When talking later that same day we discovered Leo's ruse but decided to let the decision stand because they were our closest friends and helped us in every way. Johanna upbraided Leo for the hoax he tried to perpetrate but Leo wore a big smile at the christening.
During all this time, Aunt Annie Coursey, sister of my mother's mother, had been living at Ma's. Both of her sons had died in the house in the High Works section of Scranton which she owned and she had come to live with Ma. She died there, the same month that Leo Rooney was born. Ma inherited the Coursey house in Scranton. It was the same house she had lived in as a child with her grandparents. Ma suggested that Frank and I move there because there was more work on the railroad there for Frank and so we moved there in May of 1930 five months after the birth of our third child, Sarah Jane, born on December 18, 1929.
We Rooneys would drive down from Scranton to continue to see them on Sundays and have a visit with the family. I can still see Johanna helping us get ready for the drive home, putting coats on Frances and Leo, who were small at the time, and "bundling up" Sarah Jane, the baby. I'd be trying to gather up all of our belongings, and would ask Frank, "Do we have everything?" He would answer, "If we don't have everything, we have enough."
This usually included our dog, Peanuts, who went everywhere with us. Johanna didn't like dogs but she put up with Peanuts for our sake. Leo Gallagher called us "The heavy artillery" during those days. I suppose it was because we stormed in with so much noise and confusion. The name stuck, and very often in later years he would write on his Christmas card to the Rooneys, "To the Heavy Artillery."
Chapter Eight
The "Great Depression" incubated in the nineteen twenties, accelerated by the stock market crash of 1929 until by the early nineteen thirties it became the most disastrous economic collapse in America's history. Even conservative history books estimate that half the nation was close to starvation with their savings lost in the failure of thousands of banks, their jobs gone in a fifty percent shrinkage in business and fifteen million unemployed and countless others under-employed.
Johanna tried to maintain her customary family life in the particularly hard hit coal regions but it was not to be.
A letter written during these depression years from Johanna to her sister Mary and her husband Fritz Wirtz in Miami, Florida reveals a lot about Johanna's character and this attempt to maintain her customary life. The Reynolds family, for whom Johanna worked as cook and housekeeper, had gone on a trip and so Johanna was free to come to the aid of the Pete and Val Haggerty family, distant cousins who lived in nearby Kingston. The letter follows.
Dec. 19th, 1932
Kingston, Pa.

Dear Mary and Fritz,

Just a line at Christmas time. I have been at Haggerty's since two weeks Friday and will be here until next Friday. They have a baby girl (Clare). We had a regular hospital here. Val had a sore throat and cold in the head, chills and fever.

Marion sore throat, rash, swollen glands, and looking for scarlet fever. She was in bed ten days and now she limps -- acts like rheumatism. I slept on a couch in the parlor and kept the mustard plasters and medicine to the four year old boy (Joe). The baby (Clare) has a cold- today is her best day. They had the visiting nurse to fix them up for the day and I did the rest. You know how I enjoyed it.

However, Val is up around and everyone is on the mend. I made my Christmas cake while I was up home yesterday and will get the goods and make my plum pudding and raisin bread along with Val's and we will have our turkey dinner complete, and have a nice Christmas.

I always enjoy Christmas. Leo and Elizabeth being at home they can get a lot of odd jobs done. Elizabeth wants a table tree this year instead of the big tree so let them settle it among themselves. We are all well and happy. I couldn't find my Christmas cards when I was up there yesterday and we seem too busy to get out. I got them two weeks ago and now when I want them I can't find them, isn't that natural, the Larsons aren't the kind of people that fit in with preparedness.

I know you will have a Happy Christmas. I think Christmas is always a happy time.

I will close and get supper. The baby is crying and the other two kids are fighting about cutting up the raisins for the Christmas cake so if this letter seems rambly you know why.

Love and best wishes for a Merry Christmas and a Happy New Year to you and Fritz.

Johanna
Johanna again demonstrated the generosity of her spirit by leaving her own home and moving in with the Haggerty's to aid them in a time of need. She had shown this same spirit when she had moved in with Mary Gerrity to help her after her husband, Pat Boyle, died, and in moving her whole family into Ma's to give her home to her brother Joseph and his family when he needed a home in Larksville.
Christmas was always a special season for Johanna and as busy as she was with all the problems in the Haggerty household she continued the Christmas preparations both for her own home and the Haggerty's. Though her misplacing of her Christmas cards caused her to complain of her lack of preparedness she managed to write her usual Christmas letter to her sister amidst a chaotic scene. She also indicates her distaste for nursing but if something had to be done, Johanna would do it.
This often demonstrated resoluteness she now turned on the situation of her family struggling in the economy of the times.
Circumstances steadily worsened for the Gallaghers during the nineteen thirties. Johanna, though working full time except when the Reynolds family was away, had had a serious hysterectomy operation in 1933 and found herself working beyond her strength at Reynolds' after that. Leo did yard work there two or three days a week and occasional similar work with other wealthy neighbors. He also cultivated a large garden behind his home and produced vegetables for the table and which Ma and Johanna canned for winter. Elizabeth was a special concern. She attended school in Larksville and stayed at Ma's when both her parents were absent. It was lonesome for Elizabeth with her parents away so much and it must have been unsettling to be between the two houses and no young people about either of them. Ma did the best she could to be company for Elizabeth but she was getting old and didn't have the energy to make life interesting to a growing girl.
I offered to have Elizabeth come to live with us in Scranton but Johanna had no high opinion of life in the High Works section where we lived, admittedly a tough, poor enclave of the Irish there. She wanted something better for Elizabeth than what either Larksville or Scranton offered so in 1934 she sent her to live at the convent in Towanda, Pennsylvania where she attended their parochial school for her high school years. In 1938 she graduated high school there and with the help of the sisters there was accepted for nurses' training in Astoria, Oregon.
Oregon was chosen because by 1938 Johanna and Leo had had enough of all these poor times suffered through in the east and decided to make a new start in the west. They would have to leave their home, their families and their friends. My impression is that the idea for this traumatic move was Johanna's and Leo, lacking a better alternative, acquiesced to please her. They could both see that Larksville and its environs held no good future for them and so with Elizabeth they would undertake a complete migration of the family. Elizabeth would enter training at the hospital in Astoria, and Johanna and Leo would go to brother Tom's ranch in Myrtle Point, Oregon. Here they wold make an effort to reestablish themselves in the turmoil and sadness of the Great Depression.
Tom lived alone on the ranch in Oregon. He wasn't married yet. He encouraged the Gallaghers to come west and make a new start. He always thought that the west was a new country and a better place to live. He had always wanted Ma and us girls to come after Dad died, but we never did.
A large group of relatives and friends saw the Gallaghers off from the railroad station in Wilkes-Barre. Mrs. Ursula Reynolds was prominent in the crowd. Johanna and Leo had worked for her for years and I can imagine that she didn't like to see them leave. But the Gallaghers would seek a new life in the west and never move back east again.
Chapter Nine
In the summer of 1939, a year after the Gallaghers' departure from Pennsylvania, I took my three children, Frances, Leo and Mary, for a visit with them on the ranch. My daughter Sarah Jane had died in 1930 shortly after our family moved to Scranton and Mary had been born there in 1931. Many friends tried to deter me from making this three thousand mile trip with three children who were ages twelve, eleven and eight, but travelling long distances never fazed most Larsons. Frank was back at work on the railroad and he got passes for us to ride free on the long trip.
We had a wonderful summer there with them. Johanna had the ability to make each place that she was in comfortable and home-like. She was a good cook and each meal became an adventure in tasty food. An extra cow was brought in to furnish more milk for the children and for cooking.

The garden furnished fresh vegetables of all kinds. We picked berries for pies and canning and jelly making and even gathered pecans from an abandoned grove on an adjoining ranch. A family by the name of Whitney had come to the mountain and taken up a homestead with visions of raising large amounts of pecans to sell. They made a valiant attempt to make this dream come true, but were too far from the market and also lacked the wherewithal to make the project work. When Mrs. Whitney died from blood poisoning following a miscarriage when they were not able to get her to the distant hospital in time, they abandoned the ranch altogether.
Johanna even canned deer meat, called Uncle Sam's cow meat, by some because they were owned by the federal government and it was illegal to kill them. She even adjusted to canning bear meat as well as canning the more usual vegetables grown by Leo and Tom in their mountain garden.
She loved to take walks with us up to a place called "White Rock" where we would picnic-lunch. This was an alabaster high cliff on Tom's ranch from which you could see the Pacific ocean. The view was so commanding that the federal government had placed a fire tower there to guard against fires in these rich forests of the Coastal Mountains. Sometimes we sat and watched the buzzards flying above the trees below, and talked and talked.
Elizabeth came home on vacation from the hospital while we were there and Tom took us all to the beach in his pick-up truck. On one trip we all slept out on the ground overnight, which cured me forever of the joys of camping out. Tom laid out pine limbs for our beds and cooked pan sized pancakes for our breakfast. We saw clam shells piled as high as a house by generations of Indians camping on the site.
Johanna and Mary Rooney loved to find new and interesting places to picnic, or they'd enjoy sleeping on the porch in an improvised bed. Leo helped his uncle Leo in the garden or in sawing wood or riding a horse at times. The children enjoyed a swing that their Uncle Leo had put up for them on the back porch.
I remember one day when Johanna had made a whole lot of delicious blackberry pies. She demonstrated her characteristic hospitality and kindness which extended even to strangers. A drover came up the mountain driving a large flock of sheep. He had a hard time controlling these and he stopped to ask Tom to help him. The man was taking the sheep to his place further on above Tom's place on the mountain. Johanna asked the drover to stay and eat dinner with us, as there might not be blackberry pie at his place. He assured her that there wouldn't be and he and Tom ate and enjoyed the pie before starting out.
Tom's mailbox was down at the foot of the mountain and on each of our trips away from the ranch we'd stop at the box to see if we had any mail. There usually wasn't much, as Elizabeth said, "The letter writers are in the truck," meaning Johanna and me. We two sisters enjoyed writing to each other and other members of the family. We had the habit of including in our letters to others the copies of any other letter recently received and so kept them on a round robin. It saved having each one having to write the news separately to each other member of the family. But having the two most prolific writers together on the ranch reduced the flow of letters to a trickle.
We had a wonderful visit there with Johanna, Leo and Tom for a month, and then it was home to Frank and school. Frank came to meet us in Chicago and escort us first to home and then quickly thereafter to the New York World's Fair. Two events happened in Chicago, one of world wide consequence and one only locally important. Frank took the children on a tour a a meat packing plant. The sight of the animals being slaughtered and then processed made Mary, the youngest, swear off meat eating for many years. The other event was the outbreak of World War II on Sunday, September 3, 1939. We heard the newsboys shouting on the street below our hotel rooms and Frank sent Leo down to buy a newspaper. The front page consisted of two words only, "War Declared." The Germans had marched into Poland and Great Britain had declared war. It was soon to spread and involve many others.
Shortly after we left, another visitor arrived on the ranch. It was Kathryn Ambrose, a friend of Johanna's who lived in Kingston, Pennsylvania. Kathryn was a caterer and Johanna became acquainted with her when she worked for Mrs. Reynolds for special dinner parties. Kathryn wrote and asked if she could come for a visit, and the invitation was gladly sent and Kathryn arrived.
After a three week visit Tom and Kathryn became engaged and they were married before Kathryn left for home. She returned with all her furniture and belongings and became mistress of the ranch.
Chapter Ten
Just as the effects of the economic downturn were felt by the Gallaghers before the 1929 stock market crash, the effects of the economic upsurge created by the European combatants' purchases here and our slowly accelerating war preparedness program prior to our entry in World War II were to cause profound changes in the lives of the Gallaghers.
The ranch provided a subsistence living for them but its distance from markets, sixteen miles from the nearest railroad at Myrtle Point and a larger distance from any major market precluded the possibility of generating important amounts of cash. Shortly after the outbreak of the war in Europe the Gallagher family was down to one hundred and fifty dollars in cash assets with Elizabeth needing money to continue her nurse's training. Leo and Johanna left the ranch and went to stay at the Grey home in Seattle, Washington. Mary Grey was a close friend of Elizabeth's in nurse's training school. Her parents welcomed them as if they were family. Johanna and Leo divided their one hundred and fifty dollars evenly giving fifty to each member of the Gallagher family.
From the secure base of the Grey home, Leo and Johanna sought employment. The best they were able to do was to land separate jobs on Bainbridge Island about seven miles from Seattle across the waters of Puget Sound. Johanna went to housekeep and live in for a family in Port Blakely on the island while Leo went to work and live maintaining a summer home for a Mr. Poole who lived in Seattle. Mr. Poole was impressed by Leo's diligence and shared his conc

ern that he and his wife now lived separately. The shipyard in Winslow began to hire employees as it began to gear up for our war preparedness program. Leo's beneficent employer got him a job in this shipyard and found him a home nearby on the beach at Yeomalt, a nearby community and so Johanna could rejoin him.
Johanna often told me of the relief and love she felt when she arrived at Winslow and heard Leo shout to her, "Hey, Jo." Once again she was poignantly reminded of her love and need for him, which was to sustain a marriage of over fifty years.
In May of 1941 Elizabeth graduated from nurses' training in Astoria. While Johanna was attending the graduation exercises, and staying with friends, word came to her of the death of my husband, Frank Rooney, from peritonitis following a gall bladder operation.
As Johanna said, she and I had always been together facing life's situations, but now in this most stunning and unexpected loss, we were a continent apart. She wrote the following moving letter to me from Port Blakely at the time.
Port Blakely, Washington
Saturday - 9:30 P.M.

Dear Sister, Frances, Leo, Mary,

Received the sad news of Frank's death about 6:30 this evening. As Elizabeth said, too, it is hard to believe. As you know, your trouble is our trouble. Leo said he thought it was the worst news he ever got. Elizabeth said it (the gall-bladder operation) would be serious, but I didn't take it in, as how many frail people and robust people, too, are being operated on and pull through, so, when I wasn't hearing from you or the folks, I felt "no news is good news."
Leo did not go to Astoria (for Elizabeth's graduation from Nurses' Training) and I left Astoria Sunday afternoon to stay a few days with friends in Tacoma. Elizabeth did not know my address in Tacoma and thought it would be too much of a shock to send a telegram to Leo, as he did not know that Frank was sick, and he was in a very nervous condition when she saw him last December, but is much improved now. I don't seem to have words to tell you what we think and feel. I was always with you in other trials, but they could not be compared to this loss.

Poor Frank, he was so good-hearted and you were such a happy family. We wish we could be of help to you.

I was glad Elizabeth thought of sending the flowers. She said that night, "The Rooneys have been so good to me." She also had a mass said for Frank in Astoria.

Wish we were near to be with you and could be of help or comfort to you. My thoughts have been with you all, all week, but I was thinking that everything would be all right.
Love to you all, as always,
Johanna and Leo
Tell Frank's mother for us, that Leo and I are sorry she had to stand this sorrow in her life. Our thoughts are with you all, just can't realize that what has happened in so many other families, has struck at home.

Written by Leo Gallagher -

"I am sorry, Laura, and Frances and Leo and Mary."
Chapter Eleven
In 1943 I joined Johanna and Leo on Bainbridge Island for fourteen months and I too worked in the shipyard.
After Frank's death I struggled to keep my family together. Frank had left little insurance, most of which was spent on the funeral. There were no governmental programs to aid a widow in raising minor children then. Various relatives volunteered to take each of my children and raise them to adulthood but I resolved to do that myself and keep the family together. I opened a small grocery store in one room of our house converted to that purpose by relatives particularly Ray Jones, Matilda's husband and a carpenter, who did the shelving. The coal regions did not share the general prosperity engendered by the all out was effort after the Japanese bombed Pearl Harbor on December 7, 1941. Many thousands of people left the coal regions to find war work elsewhere particularly in the east coast states; I turned west instead. I had taken a night school course in blue print reading hoping to land a good job in a war industry and so when Johanna urged me to come live with them while I found a suitable job we closed our home in the High Works and boarded a train headed west.
Our coming entailed a lot of extra work for the Gallaghers. They lived in a house on the beach with only one bedroom Johanna gave this room to Frances, Mary and me and she and her husband, Leo slept in a room at a neighbor's, the Olsens. My Leo slept in a tent in the yard as the climate there was mild.
Once again Johanna and Leo demonstrated the unusual lengths to which they would go to help someone in need. Perhaps their reward was that my three children would forever after feel that they had a second home wherever the Gallaghers were, and often traveled many miles to visit it. My son Leo tells the story that he called at eleven o'clock one night to say that he and his family were about one hundred miles away and would stay at a motel and arrive there the next day. He was told, "Come home, Leo." He arrived at two in the morning and he and Alberta spent the rest of the night talking to them after they had waited up such late hours.
Sometimes we ate our supper together down on the beach. The young Rooneys swam, boated, dug clams, and became "beach-combers," always looking to find what the waves had washed up. One time they found a whole twenty pound can of fresh yeast, not very valuable, because there is just so much yeast that a person can use. It was said that the captains of incoming ships to Seattle made a practice of throwing supplies overboard, so they could restock in Seattle and get a commission on the cost. I don't know if there was any truth to the story, but it added zest to the search for goods on the beach. At one time I found a green glass that was identified as coming from a Japanese fishing net, probably carried up that far by the Japanese current.
A tragic miscarriage of justice had occurred here on the island and along the entire west coast after the Japanese bombed Pearl Harbor and our country went to war against them. The authorities feared possible espionage and sabotage by those of Japanese ancestry and panicked. The Japanese families were unceremoniously moved from the island to concentration camps inland. Their empty homes stood as mute reminders of this senseless treatment. Johanna and all the neighbors who knew them agreed that the Japanese-Americans were fine people, as patriotic and fully "American" as anyone else.
On arrival on the island, I quickly got a job as an electrician in the shipyard. Their Uncle Leo helped Frances, sixteen, and Leo, fifteen, get part time jobs after school and on weekends and full time jobs in the summer. Mary, twelve, was in seventh grade in school, too young to work yet.
One day Frances asked me, "Mom, am I an orphan?" In asking at the shipyard for a job for her, her Uncle Leo had probably said that she was. Anyhow, she got the job and it was a good one, selling pie, sandwiches and coffee at a booth in the shipyard.
Leo Rooney had several jobs during the time we were there and he loved the island. It was an exciting place for a boy to be during the war. A contingent of soldiers were based there permanently, Russian ships were in the harbor, and a general air of frantic apprehension prevailed with antiaircraft guns on the sidewalks of Seattle streets and searchlights practicing catching planes in their beams at night. While we were there our newest battleships the U.S.S. Washington, limped into port from action in the Pacific. It was covered with camouflage paint and had been shot up by the enemy.
The Catholic church there was a mission church and had no regular pastor. Father Nicholson, a teacher at the Jesuit college in Seattle, came over on the ferry every Sunday to read mass. Leo Gallagher used to open the church, build a fire in the pot-bellied stove, and get things ready for mass generally. Bill Smith, a neighbor, dubbed Leo the "Deacon" and the name stuck.
Leo gave up his Saturday afternoons to chop wood for the church, in addition to his work there on Sundays. The Rooney girls noted these sacrifices and asked him, "What will you do if you die and find there's no heaven?" Leo was quick with his answer, "I'll raise hell!"
Father Nicholson was very learned, and his mind dwelled on things far above the mundane affairs of little Bainbridge Island. He was known to leave the Sunday's collection basket sitting there where the usher had left it in the tiny sacristy, not bothering to count it and forgetting to take it to the Seattle headquarters of the Jesuits.
Mary was in the confirmation class that year, and Father Nichols was in charge of it. He taught it diligently, as time between ferries allowed, but he was casual as to what name the youngsters could take in confirmation and what they'd wear when they went to the cathedral in Seattle to be confirmed by the bishop.
There were just a few in the class. Father gave them cards to be filled out by their parents. The heading on the card said, "Adult Conversion Class." Mary's face was so red when she was reading it. She had always attended parochial school before coming west. I think that being grouped in this way made her feel far away from the good sisters in Scranton.
When she asked Father Nichols about what name she could choose to take in confirmation, he said, "Any name, child, any name." In Scranton it was mandatory that they take a saint's name; she chose Jane.
Johanna and Leo went with us to Seattle on the ferry the night of confirmation services in the cathedral. The class from Bainbridge Island was to meet Father Nichols outside the cathedral. He was there, walking up and down and reading his breviary, and waiting for them.
Soon they were joined by another group composed of Indians, Chinese, Filipinos and others. By this time Mary surely felt that she had left all that was familiar back east.
After the services we all went for an ice cream treat before getting the ferry back to the island. Johanna and Leo had worked that day, but that didn't stop them from getting dressed and going to Seattle with us in order to help celebrate a family occasion. Later, when Frances was in a play at the high school, her Uncle Leo was there to cheer her on and tell he how well she had done.
My three children and their Uncle Leo always had a lot of fun together. At Christmas time they went out as a party to get a Christmas tree right there in the "Evergreen State" surrounded by pine and fir trees. They brought back a bedraggled specimen from that rich lode with many gaps in its branches. Not to worry, Leo drilled holes where the gaps were and they inserted branches from other trees and wrapped the junctures with cotton. Their laughter was not lessened by Johanna's disapproval of this desecration of the local foliage.
Our brother Tom came that Christmas when we were there and he spent a few days with us. By that time we Rooneys had gone to live in Mrs. Eakin's house, while she went to Seattle to keep house for her merchant marine sons. On account of the war, their work was more demanding and they had trouble getting home to the island on the ferry. So they decided to stay in Seattle for the duration and their mother joined them and allowed us to live in her home. She also had married daughters living in Seattle.
There was another reason that Mrs. Eakin was so willing to make the move. She had been left a widow years before with children to raise. She had a hard time, taking in washing and doing the hardest kind of work. She and Johanna were friends and Johanna had told her about my situation. She said to Johanna that she'd like to do something for another widow with children to repay in a small way all that had been done for her when she needed help.
The Eakin house was closer to Winslow and to work than the Gallagher's house, but we usually spent Sundays together. In time Leo and Johanna got a house in town.
At work Johanna and I always ate lunch together. I worked out of the electric shop and she worked in the tool shed, handing out tools as needed by workers and keeping a record of them. Johanna was well liked by everyone there and she formed a wide acquaintanceship. She talked a lot to different workers who came by and evidently some of the talk was about me. Many seemed to know that I had lost my husband before coming west. One man, Mr. Chitwood, liked what he heard about me, the fact that I didn't smoke or drink, and he made it his business to meet me. Eventually he proposed marriage. My children, then, as later, opposed any sign of a remarriage. Leo Gallagher was so mad about this proposal, he said, "Laura should have nothing to do with these 'western galoots'."
But I wasn't interested anyhow. I wanted to go back east again, and so did Mary and Frances; Leo alone dissented. I had never really felt at home with the snow-capped mountains surrounding the island and longed for the familiar Poconos of Pennsylvania.
The young people, and a large percentage of the older people, seemed in my opinion, to be possessed of a war wildness. People had come to work from the south, Oklahoma, Arkansas and other states, and being uprooted had an unstable effect on them. I thought that the east would be a better place to bring up my three teen-age children, especially, as they had no father.
There were other considerations also. My mother was slowly dying from cancer of the throat. Sadie Simoson, a friend of mother's wrote to tell me that she had met my mother on the street and my mother cried and said, "I'll never see Laura nor her children again."
Also, Frank's mother was saying to everyone, "First I lost my son, then I lost his children." So I decided to leave Bainbridge Island and go back to Pennsylvania. I didn't want to leave the Gallaghers, and we all missed them very much after leaving.
Chapter Twelve
Johanna and Leo stayed on Bainbridge Island working at the shipyard until the war ended in 1945 and the minesweepers produced by the yard were no longer needed. They went then back to Tom and Kathryn on the Oregon ranch for a visit and a rest. Their war work had shown them that they could prosper on their own and they did not wish to return to the subsistence living on the ranch. So after a short stay they left the ranch to work elsewhere.
Through their friendship with Dick and Bertha Richards, fellow workers in the shipyard, Leo get a job with a lumber mill in Longview, Washington and they moved there. Johanna never again worked outside the home. Instead, she concentrated her energies on creating a gracious home where the many new friends they made were always welcome and made to feel at ease. In my visits there I always noted that there were always friends and neighbors dropping by during the day and a few friends gathered there for an evening visit. Leo did not like his job at the lumber mill and so obtained a job with the Longview Park Commission and worked there happily until his retirement with a pension.
Elizabeth visited her parents in Longview after leaving the army at the end of the war but soon left with a friend to pursue her nursing career in Alaska. While there a car accident brought her not injuries but a husband. She was riding in a car full of people that went off the road. Elizabeth landed on an air force sergeant and said, "Aren't we lucky?" She was not impressed with the fact that they had just been in an accident but with the fact that they had not been injured. The sergeant in turn was struck by her pragmatic optimism and said to himself, "This is the girl I am going to marry," or so the story goes.
In January, 1948 Elizabeth wrote to her parents in Longview to tell them she was going to marry this same man, John Winter, a master sergeant in the U.S. Air Force stationed in Alaska at that time.
Naturally, the Gallaghers were concerned, as they had never met Mr. Winter. Johanna wrote immediately to Elizabeth, as follows:
Longview, Washington
January 6, 1948

Hello Love,

Received your welcome letter yesterday. Your news on getting married was received with mixed emotion by the family. I thought, well, sooner or later most people marry, it was a natural state of life and if it is a happy marriage and he is all I hope he is, why, my blessing to you both.

When Dad came home from work I read the letter to him. When I had finished it, he said, "It makes me feel sick." I said, "Why?" He said, "So many bums running around the country, if I could stop it, I would, but I can't do anything about it. No one ever asks me or pays any attention to what I think (or words to that effect), now, she'll never finish school." (Elizabeth had been taking college courses before she went to Alaska.)

However, with the fortification of a T-bone steak and apple pie and coffee, along with corn soup and mixed vegetable salad for his evening meal, the world looked brighter and by 7:30 P.M. he was in bed with his detective story, reading up on those "bums running around the country."

You have seen plenty of the world and the people in it, so have had a good opportunity to judge character etc. so here's hoping for the best in happiness for you and Johnny, too ...

Try to write more regular. Have a certain day to write, we want to hear from you. Give us more the picture of your Johnny.

With love to our girl,
Mother and Dad
Just as Leo was against "western galoots" when Mr. Chitwood was paying attention to me on Bainbridge Island, now he was against "bums running around the country," especially as it affected his only child.
Later on, when he met Johnny, Leo revised his thinking and accepted him as the best of son-in-laws and they became firm friends. Elizabeth and Johnny had three children in the ensuing years, Barbara, James and Joan.
Johanna dearly loved her grandchildren and was interested in all that concerned them. This also applied to her great-grandchildren when they came. I remember one time in her later years when she was back east on a visit, her last visit here in fact. Johanna wanted to go home before the planned time. She said that she wanted to see Barbara and the children.
She always spoke well of Jerry Bowles, Barbara's husband, also. She said that he was a gentleman and had such a nice mother.
We lived so far apart, that I didn't get to see Johanna and her grandchildren together very often, but she spoke of them in all her letters and I always knew they were close to her heart.
She'd tell me about them coming to see her, driving that eleven hundred mile journey from California to Longview, Washington. One time that she mentioned particularly, was when Barbara drove up and was caught in the snow in the mountains between the two places; it had worried her deeply.
I have a picture of Jim taken in Longview when he was visiting there. It's a typical action picture of him in the Gallagher's front yard, like to many boys visiting their grandparents during summer vacation.
Johanna's grandchildren and great-grandchildren were with her until the end. They visited her when she lived in the hotel in Ventura and again in the nursing home where she died. I visited when I could, coming from the east every year or two, and on these visits to Johanna, I always met the family there, also.
Chapter Thirteen
In the summer of 1953, it had been nine years since I had left Bainbridge Island with my children to return east.
Johanna and I continued our frequent correspondence during these years but it was not until then that I felt free to visit her in Longview. At last my three children were raised. Leo had returned from the Navy in 1948 while we lived at Ten Jersey Avenue in Morristown and I was teaching in Mendham, New Jersey. Leo had gotten married in 1952 to Alberta Maydock when both of them graduated from Montclair State Teachers College. They were expecting their first baby, due in January of 1954. Mary had graduated that spring of 1953 from Douglass College. Frances worked as a nurse in the operating room at All Souls Hospital in Morristown and was due for a vacation. She bought a new Plymouth car and we decided to take a trip celebrating Mary's college graduation by driving west to see the Gallaghers. Frances, Mary and I stayed all summer with Johanna and Leo in Longview.
It was during this summer that the Winters lived in Portland, Oregon and Johnny had an operation. I went down to Portland on the bus from Longview to stay with the Winter children, Barbara, Jim and Joan, so Elizabeth could drive in to the hospital every day to see Johnny. Barbara was four, Jim three, and Joan around one year of age at the time. They were very much disappointed to see me come instead of their grandmother.
One day Barbara and Jim went into the garage and were jumping on top of an old car that was there. When I was "bossing" them and making them come in the house, Barbara said, "It's not loo house." Small as she was she knew whose house it was, and young as she was she would have preferred taking directions from her grandmother. She hardly knew me, although we had met when the Winters had driven up to Longview to see when we had arrived from the east.
Mary and Frances picked strawberries for pay at times while we were there. One day after we were home in New Jersey again, an official looking letter came from Longview naming Frances as "Strawberry Queen for 1953." We knew it was one of her Uncle Leo's jokes, but he'd never admit it, neither would Johanna tell on him.
It had been a fun summer. I think that Mary and Frances would have liked to stay there in Longview, but I had my teaching job in Mendham waiting and I insisted that they return with me.
The next visit between the east and west branches of the family occurred in 1959 when Leo, Alberta and five year old Lars, their first born son, drove out to Washington. For purposes of this book, I asked Alberta to give an account of that visit to gain the impressions of Johanna that a new member of the family would get. She recalled the following impressions.
Leo, Lars, and I arrived at Aunt Johanna's and Uncle Leo's house in Longview, Washington just about dusk on August twentieth. We had been on the road for ten days and had gone through an earthquake. I felt so grateful to be welcomed into their home where they provided us with a delicious meal and comfortable chairs where you could stretch out and where you didn't have the rocking motion of the car.

I had met Aunt Johanna only once before when she had come east for a visit in 1957 but didn't have any chance for private conversation. I had not met Uncle Leo before, but their hospitality to us was as if we were people very dear to their hearts.

The best part was our ability to talk without reservation. In the beginning the talk was about what we had seen and encountered on our trip west, but after everyone had gone to bed Aunt Johanna and I talked far into early morning. At this time Aunt Johanna was about sixty-seven and I was about twenty-eight. I don't remember our exact conversation but I do remember my feelings of talking to a very sympathetic friend who seemed to understand and was interested in everything that we talked about despite the difference in our ages.

In the morning, all the travelers except Lars slept late. Aunt Johanna and Uncle Leo were the only other ones up when the telephone call from Mom Rooney in New Jersey came. The family in New Jersey had been worried about us because they had read in the newspaper about the earthquake in Yellowstone National Park and they had received a post card from us mailed on the day of the quake and hadn't heard from us afterward. Aunt Johanna had taken the call and assured everyone we we were all right. No one awakened us because of a family predilection of never waking anyone unnecessarily (let sleeping dogs lie). When we got up Aunt Johanna said it would be a good idea if we called home to set their minds at rest.

When we all woke there was breakfast ready. Good coffee, bacon and eggs and a portion of salmon.

The table was set with a cloth table cloth, cups and saucers, napkins and cold orange juice in clear glasses. Warm biscuits were in a basket covered with a napkin with butter and blackberry jam on the side, in all a very elegant table. In Aunt Johanna's house this was not unusual I found out. Every meal was an occasion. In my ignorance I thought I would save her trouble at one dinner. My idea was to bring home a complete chicken dinner from the Colonel's. This should have saved her from cooking and both of us from washing dishes. I learned differently. Most of the cooking was done at the drive in, but the gravy was heated and put in a gravy boat and the biscuits were put in their container with a napkin over them,. We ate off china dishes, had ice water in goblets with butter and salt and pepper in appropriate places at the table on the cloth table cloth with napkins. No picnicking in her home.
Though Johanna was geographically far away from most members of her family they were always in her thoughts. She wrote me a letter from Longview at the time Charlie Byrne married Mary, my youngest daughter, in 1960 in Morristown, New Jersey. She said in part:
. . . . now Saturday, November 26th, 9:30 A.M.... woke up 20 to 7 and pictured the activity of assembling that would be taking place about then. Said a prayer for all the family in the East and especially Mary and Charley. (She added this further sensitive observation.) Odd isn't it that weddings are sad and joyous. I remember Kathleen Saxe telling about John during his brother's marriage ceremony. She thought he was laughing, and shouldn't be, but discovered he was crying. (Lastly, Johanna said) .. What a busy household yours must be right now, moving and getting settled again.
After Mary and Charlie left on their honeymoon, I moved to Mendham about five miles away. Mary always said later that she walked out of that house to get married and never returned to it.
I believe Johanna, separated by such vast distances from most of the family, was often lonely and wished more family members would come visit her. In June of 1960 she wrote to our sister Mary in Miami, Florida.
Am waiting to see who comes, if any, -- you, Lawrence are possibilities, Matilda and Ray I hardly think they will take the trip out here. Joseph may sometime if his health permits. They all say they would like to and that's it. Even Annie Gallagher, Joe Gallagher told me that it could be that he would be on a flight to Portland, Oregon and would get to see us and I believe he would have. I sort of expected him.

It's a good thing we got around as much as we did when we could.
I feel that Johanna struck a similarly sad chord in a letter to me early in 1964. I was planning to retire from teaching at the end of the school term in June. In a letter to her I mentioned that maybe I'd go back to live in Wyoming Valley in Pennsylvania where we had all grown up. Her response was,
About taking an apartment in Wilkes-Barre, only you could know. It wouldn't appeal to me. I may be influenced in that I missed the old associations. Ma wasn't in the home - Fogartys - Gene Kennedys - Alice Gillespie - Forgashes - Sadie Simoson - Bridgie Farrel, Ceil and Anton Olsen. It made me miss them more being there on my last visit. Could be that being there, back and forth like you have, the change has been gradual and a gradual adjustment would be different than all at once.

The same thing has happened to the associations of the Island, and Seattle - Mrs. Guptel, Elizabeth Crosby, Mrs. Eakin and Bertha Richards.
She was referring to a recent visit back to Wyoming Valley where she found the family, friends and neighbors of her youth that she mentions were all dead now. I remember how depressed she was when on that visit when she and I had visited the cemetery on Pringle Hill where so many people important to her youth were then interred.
On her visit back to Seattle referred to in this letter she had found her friends of the war years scattered to various parts of the country. She was telling me that you can't go back. The associations that you had with the people of a locale cannot be recreated. After due deliberation I followed her advice so obliquely given and stayed on in the Mendham-Morristown area after my retirement.
It was in this same letter that she indicated that you can't go back successfully to former homes that she gave insight into her daily doings. She said, "I have books from the library and like to read in bed. I read or study a crossword during the program "International ShowTime" that Leo likes. I like "College Bowl," "Meet the Press," "To Tell the Truth" and "I've Got A Secret."
Johanna loved to read. She liked light fiction and read many biographies. It distressed her deeply when at about age seventy she developed cataracts on both eyes. She embarked on a program of having operations done on both eyes to correct this condition. She had the first eye operated on but found the vision in that eye was "blurry" and so was afraid to continue. In her last days she had a record player in her room and had records of stories made for the blind and played these until her interest in these declined.
She always enjoyed working out crossword puzzles. When my son Leo discovered her failing vision on a visit her and Alberta took out a subscription for her to the "New York Times Large Type Weekly" which always included a crossword puzzle. She asked him to cancel the subscription when she found she was only interested in the puzzles and thought the expense too much for this narrow purpose.
Chapter Fourteen
Though a continent separated Johanna from me much of the time she was with me in spirit always. In the spring of 1964 my teaching career was drawing to a close At school they were beginning to have parties and different programs honoring me and Frances Garabrant, a long time friend and colleague, on our retirement. I told Johanna about these and she was so happy for me, as the tributes were given.
She wrote:
Longview, Washington
April 20, 1964

Dear Sister Laura and the Family,

Your April 9th testimonial, wonderful and lovely, such an event, like a wedding ceremony, brings tears and smiles. Wouldn't Ma be happy and proud! Received the clippings, "citation" (testimonial), was so proud of you and happy, too. I felt like crying. Will send them on to Fran and Ernie tomorrow (the Gouveias were living in Hawaii). Good to know you will have a good measure of security in your school pension. And what a good feeling it must give one to receive such a recognition of their efforts. Just as your success in teaching has been recognized, many comment on what a good job you were able to do in raising your family. All three are a credit to you and Frank and themselves. You all worked together and I always think of the Rooney children as healthy, happy and affectionate and busy, busy.

The "Heavy Artillery" plows right over obstacles doesn't it?

Made bread today - a lot of good work went into it. Leo went fishing but didn't catch anything. He said to tell you that he's glad about the pension.

Love to all,
Johanna and Leo
And in a letter to Mary Wirtz written at the same time as above, she demonstrated her constant interest in family as she happens to make reference to the thirteen members of the family spanning four generations in one letter. She said:
. . . . Frank and Judy's birthday either today or tomorrow. The sun comes out in full force, then a little later it will darken and a light shower. On the ranch it was always interesting up high like that, could see it raining and the sun shining through it or other side of it.

All those testimonials for Laura, nice isn't it? She must have done a good job with the children through the years. And nice to be so appreciated. I'm proud to the verge of tears for her. That was a nice thought for Fran and Ernie to send leis for Mrs. Garabrant and Laura from Hawaii, and boys from their classes to put them on them.

I was hoping Laura would get out for a visit now that her time won't be so limited. But one can see but a little ways at a time. With Mrs. Landers so poorly and Lawrence, she feels she would like to maybe brighten up some of his days, and too, the new baby (Lynn Gouveia) and maybe transfer for Fran and Ernie in August or September. When she would come out she would like to feel things were more settled. Will get busy..

With love,
Johanna and Leo

P.S. There's a longer growing season for flowers in the Northwest. I am always reminded of how much Ma would enjoy working with them. And the radio and T.V. would have been such a boon to Dad. He read so much in his spare time and he had lost the sight of one eye.

I don't know what the Winters have in mind. The trip and visit they were arranging for us to them before New Years - Elizabeth said would be better than them driving to Longview on the vacation time Johnny would have this summer. That the last time they came she was very tired to start into work again on arrival home.

Joan said in letter she would like a slumber party for her birthday. So, if she comes up here it will probably be after that . . . .
The Rooney children next demonstrated their affinity for the Gallaghers by the visits there in the summer of 1968 by the two of them still living in the east, Mary and Leo. Mary visited them first with her husband, Charlie Byrne and their three children, Tommy then six, Laura four, and D.J. about two. Johanna told me later how good the children were and how happy she was to see them. Johanna liked the way Charlie oversaw the children when they were eating, and how D.J. called loudly for "juice." Johanna said, "Now, we'll say grace," and D.J. said, "I said juice," not grace.
The Byrnes went up to Bainbridge Island while they were in Washington State and they brought back a picture of the site of the house that we had shared with the Gallaghers while on the island during the war. The house itself no longer stood.
The Leo Rooneys made the same trip later that summer that the Byrnes had made, and they too brought back a picture of the house site where we had lived. But the pictures were not of the same site, something was wrong someplace. That Johanna enjoyed these visits of my children and their new families is shown in the next two letter. They are from Johanna to Alberta and Leo, one written before they made the trip west, and the other after the trip. Lars was fourteen years old, and Curtis five.
Longview, Washington
9:00 A.M. July 14, 1968

Dear Alberta, Leo and the Boys,

Have been looking forward to actually seeing and being with you since we learned you had it in mind for this summer and now the time is just about here. Just imagine Lars was same age as Curtis is now, last time we saw him.

It was good to be with the Byrnes. Tommy was ten months old the last time they were here (that was five years between visits). The Franklin crib is up in the front bedroom. Debby Franklin is ten years old now and Mr. Lowe's camp cot sets folded up back of the couch just as they were when Byrnes were here. They said long as the the time is so near, leave them there and use if needed.

This stationery is some the Byrnes brought back from the camping trip up there (on the Olympic peninsula). You know how the weather is here. Today I have a light sweater on, and the heat turned on. We had two or three hot days, the air-cooler the next door neighbor brought over for Uncle Leo (they had two) sits abandoned in the hall ever since, no need of it. Now 1:30, was to 1 o'clock mass with the Byrnes last Sunday.

Come along whenever you can get started, will be happy to see you again. Bainbridge Island for sure this time, Leo. Haven't been to the ranch since Tom and Kathryn moved to Santa Cruz. In fact, had not seen them since till I was down in April.

Tom isn't active - arthritis - and a cane, and he was such a good walker. Kathryn is active as a cricket. Will get this letter on its way. Just wanted to welcome you and tell you we'll be waiting to see you.

Love to all,
Aunt Johanna and Uncle Leo
Then, before Christmas of that same year that the Rooneys and the Byrnes had visited the Gallaghers in Longview, Johanna wrote again to the Rooneys, as follows:
Longview, Washington
December 17, 1968

Dear Alberta and Leo,

Raining! Barbara and her friend Judy have gone to Portland. They arrived on schedule Sunday night. As plans now stand, they will stay till Friday after Christmas Day. Go back so as to be home in time to hold Christmas on New Year's day. Joan is hoping to come up by bus this Friday, between bad head cold and school tests and the whims of Hong Kong flu.

Elizabeth was in bed with it when Barbara called up Sunday night to let them know they had made it without any trouble. Elizabeth said she had bad headache and ached all over.

I am baking what I call "Christmas Bread" today. That was always a ritual in our mother's house with a cup of tea and we three, your mother, Matilda and I carried the tradition into our homes. Mary Wirtz, I don't think so. So, we same three took much pleasure in playing, as best we could, the piano. I never remember Mary W. laying a finger on a key (Mary was the singer of the family).

Lars, we enjoyed your salmon with rye bread, pickles and a glass of beer. I thought of you then and very often over the days. (This refers to a large salmon caught by Lars in the Columbia River on a fishing trip with the Gallaghers and canned in a factory in Longview).

I can see you yet, Curtis, playing all the positions of a baseball game by yourself in the front yard. The days were all too short for your stay, but wonderful to have them at all. Mr. Lowe said he wished there had been time to take Lars camping. He would have liked to show him the favorite spots he has found. I think Mr. Lowe's hobby is Geology. When he goes on a trip with son., the son fishes, and Mr. Lowe goes looking for rock formations.

Uncle Leo still lighting his pipe. Your pipestand on table where he sleeps has some pipes in it and whatever he happens to be smoking is apt to be anyplace in house, or Lowes, or Franklins, and being returned.

Will be with you in spirit at your family get-together, with love and best wishes.

Aunt Johanna and Uncle Leo

Chapter Fifteen
Johanna loved Christmas, as she said so often. She cleaned and shined everything in the house, even the windows, inside and out had to be washed. She had a pair of brass candlesticks that she loved and treasured and kept shined for daily use and on such occasions.
I'll digress here and tell about the brass candlesticks so that Johanna's descendants will know their history.
They had belonged to John Rock, our father's boarding Mister when Dad first came to Larksville from Texas where he had first emigrated from Sweden, to work in the mines. John Rock was a baker by trade and his wife ran the boarding house. Her name was Susanna, and she was a good, kind woman who treated her boarders right. She cooked good meals, furnished comfortable, clean beds and Dad told us that she always set the table nicely and put a tablecloth on it.
So, when John came to live with us in his old age, when Susanna was gone, my mother tried to make things homelike for him. Toward the end, he was bedridden and was given the bay window bedroom upstairs, the best one in the house.
The brass candlesticks were on his night table with blessed candles in them. These he lit when he said his prayers at night and we children who slept in an adjoining room could hear him praying aloud far into the night.
I remember the day he died. When Ma asked him what he'd like for lunch, he said, just an orange and a glass of milk. He said, "I'm going to have my supper in heaven tonight."
Ma said, "In that case, we'd better send for the priest to give you last rites." John agreed to this and asked that Father Dunn be sent for.
He soon came, but when John saw him, he said, "You are not Father Dunn." The priest replied that his name was Dunn, but there was also another Father Dunn, probably the one whom John had in mind.
John said, "We're all Dunn today."
John did indeed die that night and I can still see my mother taking the red woolen wrapped packet from under John's pillow and calling us children to come see. John had told her what was in it, so she knew the time had come to open it. John had laboriously sewn five twenty dollar gold pieces in the cloth to pay for his funeral. Ma wanted us to see the five shiny gold pieces, something we weren't apt to see very often.
The candlesticks were given to Johanna and she cherished them and they are now in Elizabeth's home.
Chapter Sixteen
Johanna and Leo lived on in Longview. She continued to be interested in all that touched her. In 1970, she wrote to her granddaughter, Barbara Bowles when Barbara and Jerry Bowles' son, Jeremy, was born, "What do you think! Me a great-grandmother at 80, that's just too young to be a great grandmother. I love you. Grandma."
I next visited Johanna and Leo in 1971 at their Longview home.

Johanna hadn't been well after her unsuccessful cataract operation. She had had to go to Portland, Oregon, for the operation and Elizabeth had come to be with her. I found Johanna very depressed about the poor condition of her eyes. She also worried about how Tom was getting along. Elizabeth suggested that, now that I was there to stay with Leo, it would be a good time for Johanna to go down to Santa Cruz to see Tom; Elizabeth would take her in their car.
It was a big trip from Longview to Santa Cruz and down to Elizabeth's home in Camarillo, California, and after seeing Tom, they arrived in Camarillo very tired, but happy that they had made the trip.
Leo and I got along fine. I cooked things that we used to cook back in Pennsylvania to tempt his appetite, but he ate poorly and didn't seem as well as usual. But he didn't complain, and I was reassured when Saturday night came and he and his two best friends, George Lowe and Don Trauffler, went across the river to Kelso, Oregon to buy beer and tobacco, as it was cheaper there than in Longview.
They came home cheerful and pleased with their trip. Leo put his purchases away unopened and went to bed. During the night, or more toward morning, I herd him fall and went in to him. He seemed to have lost the power in one of his legs. I ran across the street and asked George Lowe to come over. We sent for the doctor and next morning Leo was taken to the hospital.
I had to call Johanna to come home from Camarillo, a distance of eleven hundred miles. She flew home and Max Franklin, a friend and neighbor, met her in Portland. She went directly to the hospital to see Leo, but he was almost in a coma when she got there. Elizabeth was in contact with the doctor from her home in Camarillo, and also had called the hospital for information.
Johanna and I and George Lowe and Bonnie and Don Trauffler had stayed at the hospital until late that night. Johanna was exhausted by shock and traveling. The nurses assured us that they'd keep a careful watch on Leo all night. His bed had been moved up to be near the nurses' station.
Johanna and I got ready for bed, but neither of us was asleep when the phone rang at 1:30 A.M. and the nursing nun on duty told us that Leo had died.
Johanna immediately called Elizabeth about funeral arrangements and Elizabeth called the funeral director in Longview. Johanna and I felt badly that we hadn't stayed at the hospital, but Johanna had been so near collapse that we thought it best for her to go home and rest if she could.
Elizabeth and Johnny started the long drive up to Longview from Camarillo and arrived the next day. The funeral was held in Longview but burial was in Camarillo, California. Johanna and I went on the plane from Portland to Los Angeles, accompanying Leo's body to California for burial and she took the whole thing without flinching. Elizabeth and Johnny were exhausted by their eleven hundred mile drive up when Leo was dying in the hospital. So they stayed in Longview while Johanna and I went to their house in Camarillo for the burial.
My daughter Fran and Ernie Gouveia and their children, Judy, Frank, Anita and Lynn, met us at the airport. We all went to the Winters' home in Camarillo where Barbara, Jerry and Rea, Jerry's mother met us, also Joan and Jim and Lucille Marshall, a longtime neighbor and tenant of the Winters.
The funeral was the next day in the Camarillo graveyard, ringed by mountains, a beautiful spot. Thus ended a happy period in Johanna's life. She had had many ups and downs in her long life and had finally reached this bright spot, their home in Longview. She liked the town and the people and she and Leo had made many friends there. Also, at long last, they had financial security and it all added up to a rainbow at the end of the trail. Now, with Leo gone, a way of life was abruptly ended.
At the time it happened Johanna faced it with courage, but the trauma was there, and she was never to be completely happy again. She said to me at one time that she had never realized how much her happiness was bound up in Leo and her life with him.
Chapter Seventeen
After making the transfer from Longview to California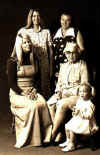 Johanna finally located in a hotel for senior citizens in Ventura not far from the Winter home in Camarillo. I visited her there several times.
She had a large and comfortable private room with bath. She had her own phone and writing desk. She was served three meals a day in the dining room and often played the piano available in the recreation room.
She became more like her old self there, outgoing and natural and everyone there knew and liked her. The managers of the hotel at one time were Karen Grassle's parents. Karen plays the mother's role in the TV series, "Little House on the Prairie." One time when Karen was visiting her parents, she was helping out by delivering fresh towels to the rooms. When Johanna opened the door to Karen's knock, she said spontaneously to Karen, "My, you're pretty." Johanna reported that Karen's pretty face smiled in return and she appeared even more beautiful.
One friend, whose name was Abby, had a large corner room, beautifully furnished and boasted a large colored TV. This was a favorite meeting place to talk and watch TV together.
On Thursdays while I was visiting her, a prayer service was held in the recreation room, A minister came for one hour and conducted prayers and hymns and talks and we always enjoyed it. Every day we would walk up to the Mission Church and have a visit. This was the Mission San Buenaventure, the ninth and last mission founded by the famous Father Serra, who established these missions in southern California a day's walk apart. Each night, after supper, some friends of Johanna's, Mary Starr, Stella, Genevieve and some others, had a saying of the rosary in one of their rooms, and Johanna and I always attended.
Her ability to form friendships remained unimpaired during these last years. She cared about other people and her natural interest in them was reciprocated. She wrote to our sister Mary Wirtz:
Dear Sister Mary,

Sitting at the Larksville desk that was Elizabeth's. It is solid walnut, I believe, very heavy to move, doesn't show signs of wear.

Elizabeth was in yesterday. She takes my personal laundry to put through with hers. I am glad you have your friends, Mrs. Kyle and Mrs. Layton. They are nice people. I see a lot of changes here at the hotel, as it used to be called, not it is called Ventura Inn.

My friend, Emma Chase, I be with her a lot, has gone "up north" for a month among her sons and their families. I miss her. Of course there are lots of others here, but always there are some that are special.

One needs to be thankful for what we have. The Genevieve Clark I be with a lot, has diabetes and it has affected her eyes, cannot read her letters, but she carries on, dresses nice and is good company.

They are putting a new roof on our church. The old roof was 50 years old. The Chaplain is a priest who was seriously injured in an auto accident, a young man, he speech is affected on account of it, but he struggles along and makes the best of it.

I can picture you and Matilda having a "talk fest" when she was there. You and Matilda were close, went out together. Remember Allen Dymond, Johnny Morgan, etc. etc. (old beaus).

With love,
Johanna
I have noticed in my own senior years while visiting friends in our local senior citizens center that there are two main attitudes displayed by inhabitants of such centers. Some are apathetic and do not participate in the activities offered nor do they take an interest in other people. Others, like Johanna, remain active and interested and love to be a part of the life around them.
As always Johanna had an abiding interest in her grandchildren Joan, Jim and Barbara Winter. Barbara, the granddaughter who had made her a great-grandmother, and husband Jeremy Bowles lived in nearby Thousand Oaks with their three children, Jeremy, Janna and Brett. She mentions them in the next letter as well as other things also important to her in a writing to her sister Matilda. Matilda had married Ray Jones and lived in Fernbrook, Pennsylvania, a suburb of Wilkes-Barre where they had raised the children Mary, Raymond, Aleatha and William.
. . . . Laura has been a source of comfort and help in those trying times to all of us. (It has been a source of comfort to me that Johanna expressed this.)

It's nice to be so near the church. All the years in Larksville in those cold winter days I've seen Elizabeth's face blue with the cold, waiting for a street car at Larksville Corners to go to Kingston to Sunday School.

I enjoy the great-grandchildren, Janna and Jeremy. Janna spends a lot of time with Jerry's mother while they are busy at the swimming school. (The Bowles family business at the time.) When she went with them on their vacation to Arizona, she got homesick, crying for home and Grandma, (Rhea), even though her father and mother and brother were with her.

I remember Ma planning to be up to Aunt Annie Coursey's and her telling Laura, who was small then, not to be crying to go home while they were there.

I have a picture of Dad's father framed on the wall. It looks so much like Dad as I remember him.

Leo, like Ray, (Jones) was ready to go. Leo said several times in the past year that he hoped he would go before me. He knew he had come to think he was too tired to go on any further.

What a gloomy letter. We have lots of happy times to recall also, and can be thankful. Write when you get around to it. Love to all,

Johanna
To expand on the thoughts expressed in the above letter; on my last visit to Longview, when Leo Gallagher and I were there together and Johanna had gone to see Tom, her brother in Santa Cruz, Leo said to me, "I'd like to die, but I'm scared to." Leo was always a joker, so I didn't take his words seriously at the time.
I have a private theory, that old couples, or any old people who have been close, are held in life by each other, and on the occasion of one not being there, the other feels released, and dies. I think Johanna's visit to Tom inadvertently had this effect on Leo. I've seen it happen in many cases.
Johanna came east to visit us several times after Leo died, but she was never the same. She missed all the family and friends that she used to know and seemed never to be content again.
On one of her visits, Francis Garabrant took Johanna and me down to Reading to see our brother Joseph who was ill in a nursing home at that time. We stayed in a motel nearby and had a good visit with Joseph, Betty Jo and Richard during the day on the porch. Joseph showed us where he and his daughter Betty Jo would sit under a tree and sing. Richard Magners, his grandson, took Joseph from and to his room in a wheelchair.
Later, after our brother Joseph died in Reading, Pennsylvania, Johanna wrote to Betty Jo and her three children, Richard, Becky and Nancy Magners. Betty Jo's husband Arthur had died suddenly of a heart attack.
Dear Betty Jo and family,

My thoughts are with you and wishing the best for you. The loss of one's loved ones saddens us, yet we know they have only gone on ahead, and we look forward to being with them again where there are no partings.

Joseph loved you and the grandchildren very much. You were the source of his comfort. I am glad you have the children. I enjoy Barbara Bowles's children. Barbara was my first grandchild. She has three children now. We are a small family compared to my mother's family of ten. Glad that I got to see Joseph and his family, and the Jones and Rooneys when I could.

I remember Arthur's (Betty Jo's husband) smile of welcome to me when I met him. He was a likeable person. I am thankful I had the opportunity to see and be with all of you and am glad you have and are capable of accepting life as it comes. It is the best way. My mother said so often, "There is nothing that it could be worse." Love and sympathy to you and the family.

Aunt Johanna
She commented further on Joseph's passing in a letter to Matilda.
Dear Sister Matilda and Family,

The spirit of Christmas is in the air. I have always remembered going with Dad to 5 o'clock in the morning mass in Kingston, no street cars or automobiles them days. It was so wonderful to me. I have never forgotten it.

There's a beautiful Christmas tree downstairs in the lobby of the hotel here. I am glad you and Mary (Jones) and Laura could go to Joseph's funeral. A sort of moral support to Betty Jo, too. She is a very good person and good to Joseph.

Joseph liked to sing and Betty does too. She showed me the tree near the rest home that she and Joseph would sit under and sing for the others there.

While I was in the east last time, I didn't go any further than Larksville Corners. Last time I was to where we all lived for so many years. There wasn't a trace of all the things done on that piece of ground. I always feel that Christmas is a wonderful time in itself - a bum told Leo at one time that he had no place to go and he lay down on the bank of one of those culm dumps that used to get on fire, and he felt so happy, he felt there was something wonderful, it was Christmas, and it confirmed his belief in a Supreme Being.

I have cookies in one jar, grapes in another, and peanut brittle in another. Reminds me of Lawrence with his box of raisins and book, going up to his room to enjoy a quiet hour.

Love to all,
Johanna
I used to address and stamp envelopes for Johanna to use when she wrote to us as her eyesight was failing and though she could still write letters she had trouble addressing the envelopes and I wanted to be sure that we heard from her.
In a letter received in one of those pre-addressed envelopes she expressed again her deeply felt disappointment to find so little at the site of the former Larson home to mark all the family life that occurred there.
Dear Sister Laura,

Always happy to get a letter from you. You are a good writer. Always had that gift! I know what you mean by the comforts of home. We get used to our own floor, "be it ever so humble, there's no place like home."

Ma and you are an example to me of courage. Barbara's husband is a fine person, I think a lot of him. Barbara and Joan are close. They are together a lot.

There just isn't any trace of all the living that was done on that plot of ground we lived on in Larksville, but that blue spruce tree Mary Wirtz brought from Bear Creek to Ma to plant. I'll get this letter on its way.

Love to all, Johanna

P.S. We will take things as they come. "Play it by ear," as you say. Well, even though we are separated in miles, you and yours are with me in spirit, or I am with them, and Frances (Rooney) and Leo (Gallagher) were kindred "SPIRITS."
In my previous book, Diamond Jubilee, there is a picture of the homestead still standing in 1950 and a picture of me and my son Leo taken by Alberta in May, 1980 standing by the large blue spruce tree referred to by Johanna. In part, the caption says, "The site is now overgrown with weeds and surrounded by a dirt track on which teenagers raced their ear splitting mini-bikes on the day this picture was taken." Like this blue spruce tree Johanna was a survivor but she was a survivor who remembered and regretted the passing of so many who had been important in her life. But even the most long lived of survivors eventually succumb.
Chapter Eighteen
After several years in Ventura, Johanna became ill and had to go to a nursing home in Camarillo. I visited her there twice and was pleased to see what good care she was getting. I was in a position to know because though I stayed at night at the Winter's, each morning either John or Elizabeth would drop me off at the nursing home and I'd stay all day, going up to a nearby restaurant for my lunch.
Sometimes when I'd go in Johanna wouldn't know me, but after I was there a while, she'd realize who I was and we had many good talks. One day she said to me, "Weren't we girls lucky? We all got such good husbands, fine, decent family men." (By girls she meant us sisters, herself, Matilda, Mary and me.) And she was right, we all did marry fine decent men and had happy married lives.
Elizabeth visited every day and took care of all of her mother's needs. The children and grandchildren came also, and the Gouveias came up from Vista when they could. Johanna said she loved to laugh with Frances when they'd recall something funny that had happened in the past.
One day, after breakfast, at the age of ninety, Johanna quietly died.
I didn't go out to her funeral, wanted to remember her as I had to often seen her, loving, intelligent and interested in all that concerned anyone she knew.
I'll end this account with this letter that Johanna's beloved grandson, James Winter, then in his twenties, wrote to me on July 30, 1079 after Johanna's funeral:
Dear Aunt Laura:

Well, a sad day in the Winter family history. Grandma passed away Sunday. It's sad, but if kindness triumphs, then Grandma had a successful life.

I can remember, as a little boy, that whenever I would lose something, Grandma would ask, "Did you misplace it?" Then she would look with me all about the room until we found it.

July 31, 1979

The funeral was this morning. It was a warm day here in Camarillo, gentle breezes from the sea, and the formal viewing was at a local funeral home.

After the ceremony, we went to the old Catholic church in town and it is located near the school where the three Winters attended. Grandma had once gone there to attend First Friday and Benediction, I believe, so she had come to a familiar place.

After the service the cars took us out to the valley cemetery where Grandpa sleeps, and the birds and the flowers and the trees were all there also.

Grandma was buried in the rolling hills and gentle air that she had once viewed from the old house viewing porch, so again she had come to a familiar place.